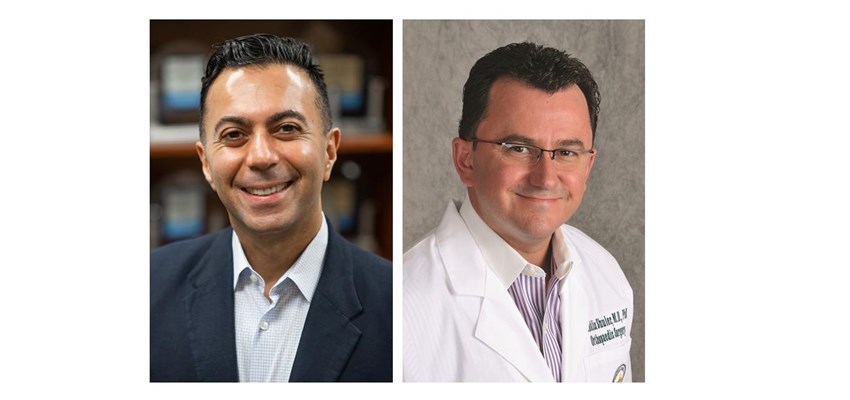 Oliashirazi, Shuler receive certification for independent medical exams
7/10/2020
---
HUNTINGTON, W.Va. - Ali Oliashirazi, M.D., and Franklin D. Shuler, M.D., Ph.D., of Marshall Orthopaedics recently became certified by the American Board of Independent Medical Examiners.
An independent medical examination, or IME, occurs when a doctor who has not previously been involved in a person's care examines an individual to calculate the degree of impairment or to offer a professional opinion on the patient's treatment course or return to work status. No prior doctor-patient relationship exists, meaning the doctor performing the IME will not prescribe medications or see the patient for follow-up care. They are commonly required in legal cases.
Oliashirazi and Shuler join the ranks of five other Marshall Health physicians: Natavoot "Nick" Chongswatdi, M.D.; Charles W. Clements II, M.D.; Alan Koester, M.D.; Mohammed Ranavaya, M.D., J.D.; and David P. Rupp, M.D.
To schedule an IME, contact Marshall Orthopaedics at 304-691-1262 or Marshall Family Medicine at 304-691-1100.
 ###
Media Relations Contact
Michele McKnight, Community & Media Relations Coordinator
304-691-1713
mcknigh4@marshall.edu
---
Receive Marshall Health News
The Marshall Health newsroom offers our latest news releases, which are distributed through a Marshall University electronic mailing list.
To be added to this list, please e-mail your name, job title, e-mail address, media outlet and location to mcknigh4@marshall.edu.
---
Sign Up for Healthy Herd Updates

Sign up for Marshall Health's official blog. This digital resource is full of stories, recipes, health and wellness information to help you on your wellness journey. 
---
News Release Archives