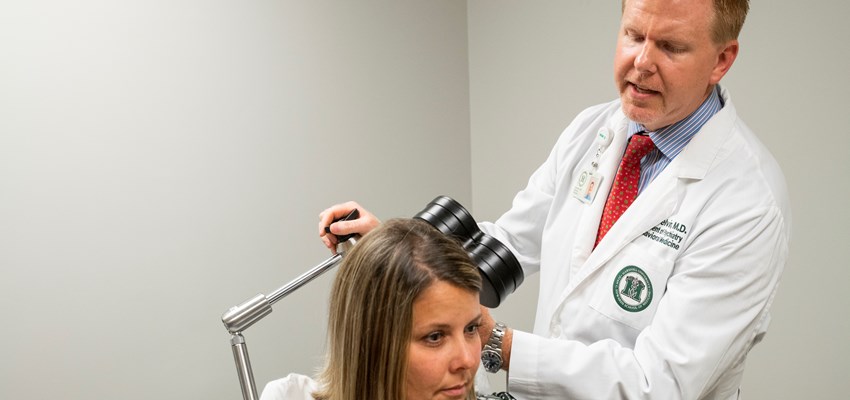 New treatment for depression now available at Marshall Health
9/19/2018
---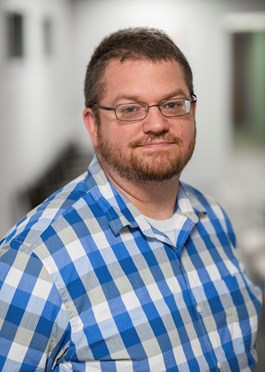 HUNTINGTON, W.Va. – A new treatment alternative for individuals with chronic depression is now available at Marshall Health.
Transcranial magnetic stimulation, or TMS, is a non-invasive alternative for individuals with treatment-resistant depression. TMS is performed in a doctor's office using a magnetic coil to activate areas of the brain involved in mood regulation. Treatments take about 45 minutes and are performed daily for four to six weeks. 
According to the National Institute for Mental Health (NIMH), up to 17 percent of the U.S. population, or roughly 55 million people, will experience at least one episode of major depression in their lifetimes.  Severe depression often causes significant disability and can lead to suicide.  Fortunately, multiple treatment options are available. Antidepressant medications are often used first, but about 40 percent of individuals fail to respond or do not tolerate them due to side effects. 
"For treatment-resistant patients, TMS is an excellent alternative to medication," said Kelly Melvin, M.D., a board-certified psychiatrist and associate professor of psychiatry and behavioral medicine at the Marshall University Joan C. Edwards School of Medicine. "TMS has been shown to be a safe and well-tolerated procedure, and it is effective for most patients."
Although TMS has been FDA approved as a treatment alternative for depression in the United States since 2008, TMS is not for everyone diagnosed with depression. Patients must first be evaluated by a TMS-trained psychiatrist to determine if the procedure is right for them. Two TMS-trained psychiatrists, including Melvin, offer this treatment at Marshall Psychiatry—Dr. Melvin, who has practiced with Marshall since 2012, and D. Scott Murphy, M.D., who joined the practice in July.
Murphy is a psychiatrist whose practice primarily focuses on treatment of adults with chronic mood, anxiety and thought disorders. He earned his medical degree from Marshall University, where he also completed his psychiatry residency.
TMS is an outpatient procedure available at Marshall Psychiatry, an outpatient department of Cabell Huntington Hospital, at 1115 20th Street, Suite 205, in Huntington. For more information or to schedule an evaluation for TMS, please call Marshall Psychiatry at 304-691-1500.         
###
Photo captions: (Header photo) Dr. Kelly Melvin demonstrates Transcranial Magnetic Stimulation (TMS), which is used for persons with treatment-resistant depression. (Inset) Dr. D. Scott Murphy recently joined Marshall Psychiatry and specializes in TMS treatment, as well as treatment of adults with chronic mood, anxiety and thought disorders.
---
Media Relations Contact
Michele McKnight
Assistant Director of External Affairs
304-691-1713 
mcknigh4@marshall.edu
---
Receive Marshall Health News
The Marshall Health newsroom offers our latest news releases, which are distributed through a Marshall University electronic mailing list.
To be added to this list, please e-mail your name, job title, e-mail address, media outlet and location to mcknigh4@marshall.edu.
---
Sign Up for Healthy Herd Updates

Sign up for Marshall Health's official blog. This digital resource is full of stories, recipes, health and wellness information to help you on your wellness journey. 
---
News Release Archives