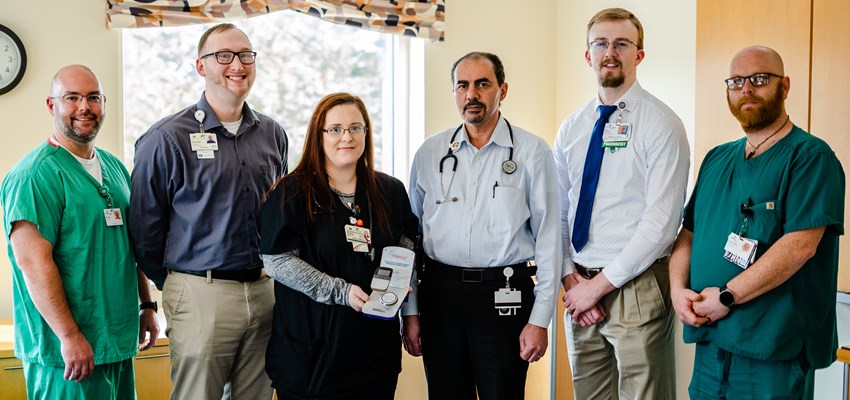 New treatment available for patients with pulmonary hypertension
2/15/2023
---
HUNTINGTON, W.Va. – Pulmonologists at Marshall Health and Mountain Health Network are the first in West Virginia to treat patients with pulmonary hypertension using a subcutaneous treprostinil pump.
Much like an insulin pump, the treprostinil pump, under the brand name Remodulin®, delivers medication continuously under the skin, helping control the patient's symptoms and improve functional status and quality of life. Marshall Health Pulmonologist Amro Al-Astal, M.D., inserted the first treprostinil pump last month at Cabell Huntington Hospital (CHH), a member of Mountain Health Network. The first cases have shown excellent results and significantly improved patients' symptoms including shortness of breath, heart palpitations and dizziness.
Pulmonary hypertension is a serious condition caused by high pressure in the blood vessels leading from the heart to the lungs. While there is no cure for pulmonary hypertension, patients have access to advanced care close to home. In 2021, Marshall Health established a pulmonary hypertension clinic dedicated to evaluating and diagnosing pulmonary hypertension, as well as providing the specific level of care this condition requires.
"This disease places a significant burden on a patient's quality of life," said Al-Astal, an associate professor of medicine at the Marshall University Joan C. Edwards School of Medicine. "Pump technology has made significant advances in the last few years. This pump is the most advanced on the market with an excellent safety profile. Through the collaboration of our team of physicians, pharmacists, and staff and the ICU nurses and staff at CHH, patients who have pulmonary hypertension now have access to state-of-art treatment without having to travel far from home."
Patients must have a referral from a physician to receive care at the pulmonary hypertension clinic. For more information, visit marshallhealth.org/services/cardiology/pulmonary-hypertension-clinic or call 304-691-6841.
###
About Marshall Health
Marshall Health is the clinical enterprise of Marshall University and its Joan C. Edwards School of Medicine. Marshall Health brings together a comprehensive care team of 420 providers in 75 areas of primary and specialty care. As part of an academic health system, Marshall Health is committed to improving access to care throughout southern West Virginia, Ohio and Kentucky through advanced technologies and research that benefit its patients and the communities it serves. To learn more, visit marshallhealth.org. 
About Mountain Health Network
Mountain Health Network is a West Virginia-based not-for-profit health delivery system comprised of Cabell Huntington Hospital, a 303-bed teaching hospital for Marshall University Schools of Medicine, Pharmacy and Nursing; St. Mary's Medical Center, a 393-bed teaching hospital that operates St. Mary's Schools of Nursing, Respiratory Care and Medical Imaging; Hoops Family Children's Hospital, a 72-bed pediatric specialty hospital within Cabell Huntington Hospital; HIMG, an 80-member multi-specialty physician group; and Pleasant Valley Hospital, a 101 acute-bed hospital. Mountain Health is committed to improving the health and well-being of over one million children and adults in 38 counties in West Virginia, southern Ohio and eastern Kentucky through understanding, respecting and meeting their needs. To learn more, visit www.mountainhealthnetwork.org.
---
Media Relations Contact
Michele McKnight
Assistant Director of External Affairs
304-691-1713 
mcknigh4@marshall.edu
---
Receive Marshall Health News
The Marshall Health newsroom offers our latest news releases, which are distributed through a Marshall University electronic mailing list.
To be added to this list, please e-mail your name, job title, e-mail address, media outlet and location to mcknigh4@marshall.edu.
---
Sign Up for Healthy Herd Updates

Sign up for Marshall Health's official blog. This digital resource is full of stories, recipes, health and wellness information to help you on your wellness journey. 
---
News Release Archives