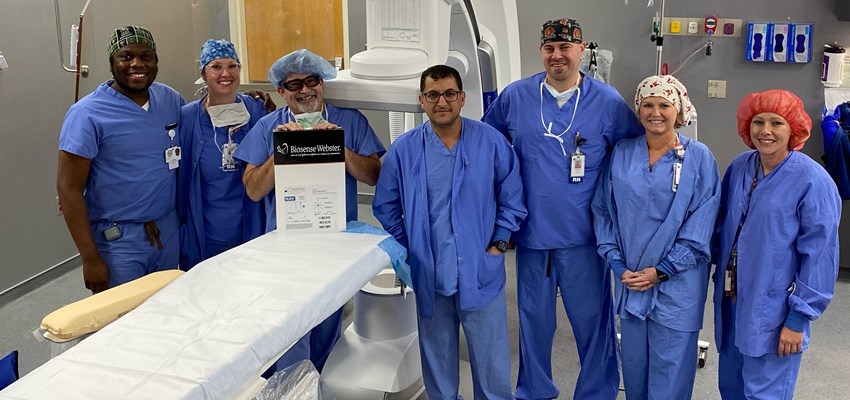 New technology and mapping catheter improves outcomes for heart patients
1/4/2023
---
HUNTINGTON, W.Va. – Cardiologists at Marshall Health and St. Mary's Regional Heart Institute (SMMC), a Mountain Health Network Cardiovascular Center of Excellence, are the first in West Virginia to use a new technology and mapping catheter to treat patients with complex cardiac arrhythmias, such as Afib and ventricular tachycardia (VT). 
Electrophysiologist Khalid Abozguia, M.D., Ph.D., associate professor of cardiovascular services at the Marshall University Joan C. Edwards School of Medicine, and the team at SMMC have successfully used the OCTARAY™ mapping catheter and TrueRef technology to achieve better visualization and access to the heart, improving the success rate of cardiac ablation procedures used to help the heart maintain a normal rhythm. The first cases using this technology were performed last month at SMMC and have shown excellent results.
"As an academic health system, we are committed to staying at the forefront of medical innovations and continuing to bring the latest advancements in cardiac care to our patients throughout the Tri-State and across West Virginia," Abozguia said. "In addition to improved precision during the procedure, the OCTARAY™ mapping catheter and TrueRef technology combined can also shorten the procedure time and reduce risk of complications."
Both developed by Biosense Webster Inc., the OCTARAY™ features eight splines, each with four electrodes, providing increased surface area coverage and improved signal quality during the ablation procedure. TrueRef allows for real-time assessment of ablation lesion formation during the procedure, allowing the electrophysiology team to monitor the progress of the ablation and make adjustments as needed, to ensure the procedure is as effective as possible.
For more information, visit marshallhealth.org/cardiology or call 304-691-8500.
###
Photo: Dr. Khalid Abozguia and the electrophysiology team at St Mary's Medical Center with the new OCTARAY™ catheter used in the procedure.
---
Media Relations Contact
Michele McKnight
Assistant Director of External Affairs
304-691-1713 
mcknigh4@marshall.edu
---
Receive Marshall Health News
The Marshall Health newsroom offers our latest news releases, which are distributed through a Marshall University electronic mailing list.
To be added to this list, please e-mail your name, job title, e-mail address, media outlet and location to mcknigh4@marshall.edu.
---
Sign Up for Healthy Herd Updates

Sign up for Marshall Health's official blog. This digital resource is full of stories, recipes, health and wellness information to help you on your wellness journey. 
---
News Release Archives