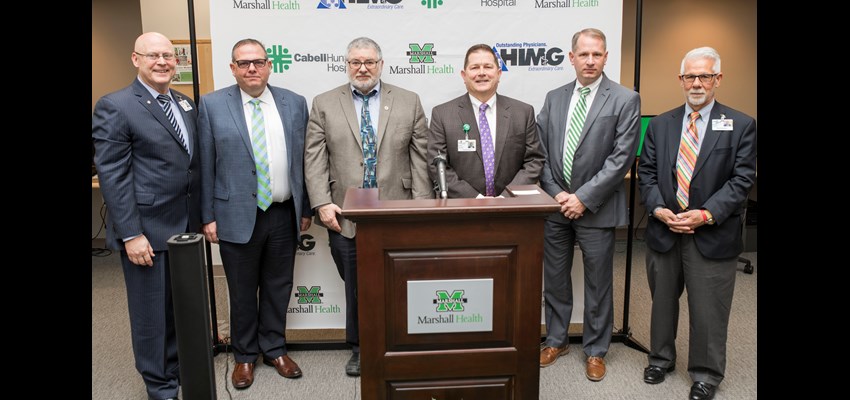 MHC ACO to participate in Medicare Shared Savings Program
Innovative partnership using a quality-driven approach is designed to deliver the right care, in the right place, at the right time
3/8/2018
---
HUNTINGTON, WV - More than 13,500 Tri-State Medicare beneficiaries will benefit from an innovative, highly coordinated, quality-driven approach to care as the MHC Accountable Care Organization began participation in January 2018 in the Medicare Shared Savings Program (MSSP).
Launched by Medicare to advance the Affordable Care Act, the MSSP facilitates coordination and cooperation among providers both to improve the quality of care for Medicare beneficiaries and to reduce unnecessary costs. Its three-part aim is to promote:
Better care for individuals;
Better health for the population served; and
Containment of the growth in health care costs.
In an innovative regional partnership, Marshall Health, Huntington Internal Medicine Group and Cabell Huntington Hospital, Inc., have joined to create MHC Accountable Care Organization , LLC ( MHC ACO) to participate in MSSP.  As part of the MSSP, MHC ACO, along with Marshall Health, Huntington Internal Medicine Group and Cabell Huntington Hospital will work with other health care providersto ensure that traditional Medicare patients in the Tri-State region attributed to MHC ACO receive the right care, in the right place, at the right time.
"With the number of Medicare patients across the region only continuing to grow, this partnership represents the major health care providers in our region coming together to best care for this vulnerable population," said Joseph I. Shapiro, M.D., dean of the Marshall University Joan C. Edwards School of Medicine and board chair for its faculty practice plan, Marshall Health. "This initiative is as much about improving and coordinating care as it is a cost-containment measure for the care of our seniors."
"HIMG is pleased to partner with Marshall Health and Cabell Huntington Hospital to jointly collaborate on MHC for the benefit of traditional Medicare beneficiaries within the region," stated Mark Morgan, CEO, Huntington Internal Medicine Group. "We are excited about this partnership for our physicians, staff and ultimately each of those participants in the ACO. We believe this is a watershed moment within the community as these respective strong organizations work jointly, to improve the health and wellness of our community."   
"We are thrilled to partner with Marshall Health and HIMG in this innovative program that places patients at the center of their care," said Kevin N. Fowler, president & CEO, Cabell Huntington Hospital. "MHC ACO is about leveraging the benefits/capabilities of information technology to proactively coordinate high-quality care for Medicare beneficiaries, especially those who are managing multiple or severe chronic conditions. Through this partnership, we will strive to enhance access and smooth transitions throughout the care continuum to improve patient outcomes and the patient experience."
This more integrated, quality-driven approach means patient needs are at the forefront of our care approach.  It assures a pro-active relationship among patient and providers and offers assistance in navigating care across settings.
The Medicare Shared Savings Program rewards ACOs that improve outcomes and meet quality standards while containing overall health care costs.
###
---
Media Relations Contact
Michele McKnight
Assistant Director of External Affairs
304-691-1713 
mcknigh4@marshall.edu
---
Receive Marshall Health News
The Marshall Health newsroom offers our latest news releases, which are distributed through a Marshall University electronic mailing list.
To be added to this list, please e-mail your name, job title, e-mail address, media outlet and location to mcknigh4@marshall.edu.
---
Sign Up for Healthy Herd Updates

Sign up for Marshall Health's official blog. This digital resource is full of stories, recipes, health and wellness information to help you on your wellness journey. 
---
News Release Archives