Marshall University receives $2.6 million grant for residential treatment facility
9/7/2018
---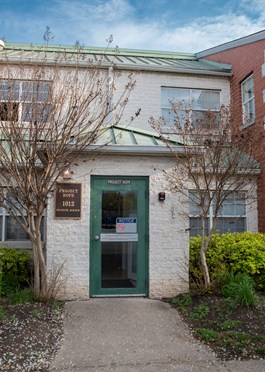 HUNTINGTON, W.Va. – Marshall University and its Joan C. Edwards School of Medicine have been awarded a five-year, $2.62 million grant from the U.S. Department of Health and Human Services to help launch a residential treatment center for pregnant and postpartum women with substance use disorders.
The grant, funded through the Substance Abuse and Mental Health Services Administration (SAMHSA), will help support staffing and program costs for a new Marshall Health initiative called Project Hope for Women and Children. The 18-unit residential facility will provide a secure, stable living environment for new and expecting mothers and their children. In addition, the facility will provide onsite individual and family therapy and life skills coaching. 
"Project Hope for Women and Children is another critical step in Huntington's road to recovery," said Beth L. Hammers, chief executive officer of Marshall Health. "The facility will help meet a growing need for residential treatment programs and will leverage other programs throughout the area to create a comprehensive continuum of care." 
The program will work with Healthy Connections, Cabell Huntington Hospital's Maternal Opioid Medication Support (MOMS) program and Marshall Health's Maternal Addiction Recovery Center (MARC) program to identify needy patients. In addition, patients will be referred to PROACT for medication-assisted therapy, counseling and job training and placement services.
"We are very thankful for this funding because it will give us more resources to help families heal, remain intact and move forward along the path to recovery and productiveness," said Robert H. Hansen, director of addiction services for Marshall Health.  
Renovations to the 15,000-square-foot facility located at 1012 7th Avenue in Huntington were made possible through a separate grant from the West Virginia Department of Health and Human Resources. Set to open in fall 2018, Project Hope for Women and Children has the capacity to serve up to 18 families at a time in individual single-family units.
To support Project Hope with a financial or in-kind gift, please contact Linda Holmes, director of development and alumni affairs at the Joan C. Edwards School of Medicine, at 304-691-1711.
###
---
Media Relations Contact
Michele McKnight
Assistant Director of External Affairs
304-691-1713 
mcknigh4@marshall.edu
---
Receive Marshall Health News
The Marshall Health newsroom offers our latest news releases, which are distributed through a Marshall University electronic mailing list.
To be added to this list, please e-mail your name, job title, e-mail address, media outlet and location to mcknigh4@marshall.edu.
---
Sign Up for Healthy Herd Updates

Sign up for Marshall Health's official blog. This digital resource is full of stories, recipes, health and wellness information to help you on your wellness journey. 
---
News Release Archives