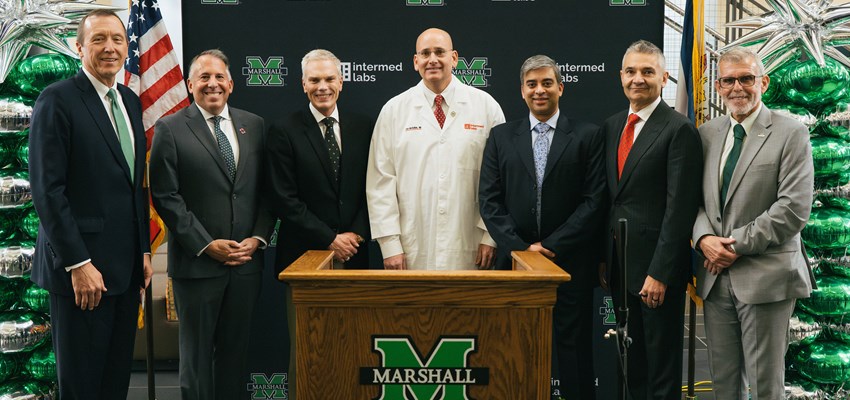 Marshall University and Intermed Labs kick off partnership
Research initiatives already underway
11/17/2023
---
HUNTINGTON, W.Va. - Marshall University and Marshall Health Network, along with Intermed Labs, today officially launched their partnership aimed at leading health care innovation in West Virginia and beyond. 
During a press conference at the university's Arthur Weisberg Family Applied Engineering Complex, Marshall President Brad D. Smith said the partnership provides the opportunity to launch and scale novel enterprises that will change the health care landscape.   
"This collaboration demonstrates the power of we through interdisciplinary relationships across health care, innovation, entrepreneurship and advanced manufacturing, "Smith said.  "With Intermed Labs as our esteemed partner, we are poised to conceive, launch and scale novel enterprises that will revolutionize the health care landscape."  
Intermed Labs, based in Morgantown, will now have physical meeting space in Huntington at the Marshall Advanced Manufacturing Center.  
"Intermed Labs is thrilled to announce our partnership with Marshall, a forward-thinking powerhouse in health care and higher education," said Dr. Tom McClellan, CEO and founder, Intermed Labs. "Partnering with such an innovative institution brings unparalleled value to West Virginia.  Together, we are poised to pioneer groundbreaking initiatives, drive innovation, and shape the future of health care.  This partnership underscores our commitment to staying at the forefront of change.  We look forward to a dynamic partnership that will leave a lasting impact on the landscape of healthcare in West Virginia." 
Two clinician scientists at the Marshall University Joan C. Edwards School of Medicine Dr. Ali Oliashirazi, professor and chair of orthopaedic surgery and Dr. M'Hamed Turki, a gastroenterology fellow, are currently engaged in two separate projects which are focused on their specialty areas of medicine.  
"As we build a go-to-market strategy and platform for innovative health care and life science products originating from Marshall Health Network, our health professionals can feel confident that they have an entire system of people to support their innovative ideas for the improvement of patient care," said Kevin Yingling, R.Ph., M.D., CEO of Marshall Health Network. "Idea generation to implementation is something Marshall Health Network strongly believes in, and we are pleased to serve as a living lab for these great ideas to come to fruition." 
The partnership with Intermed Labs enhances an already effective research ecosystem under the Marshall University Research Corporation.  
###
Photo: Marshall University, the Marshall Health Network and Intermed Labs today officially announced a new medtech partnership aimed at taking health and wellness concepts and innovations to market seamlessly. Pictured from left are: Marshall Health Network CEO Dr. Kevin W. Yingling, Mon Health System CEO David S. Goldberg, Marshall University President Brad D. Smith, Intermed CEO and Co-Founder Dr. Tom McClellan, Intermed CEO and Co-Founder Ashok Aggarwal,  Marshall University Vice President of Strategic Initiatives Toney Stroud, and Joan C. Edwards School of Medicine Dean Dr. David Gozal. 
---
Media Relations Contact
Michele McKnight
Assistant Director of External Affairs
304-691-1713 
mcknigh4@marshall.edu
---
Receive Marshall Health News
The Marshall Health newsroom offers our latest news releases, which are distributed through a Marshall University electronic mailing list.
To be added to this list, please e-mail your name, job title, e-mail address, media outlet and location to mcknigh4@marshall.edu.
---
Sign Up for Healthy Herd Updates

Sign up for Marshall Health's official blog. This digital resource is full of stories, recipes, health and wellness information to help you on your wellness journey. 
---
News Release Archives