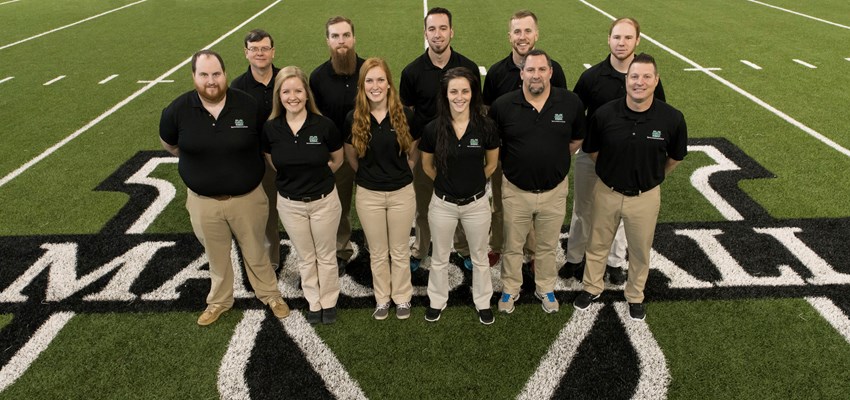 Marshall Sports Medicine Institute celebrates National Athletic Training Month
Highlights free concussion testing for children
3/16/2018
---
HUNTINGTON, W.Va. – Through a partnership with middle and high school athletic programs across three counties, the athletic trainers at the Marshall Sports Medicine Institute (MSMI) improve functional outcomes, prevent injury and re-injury, and provide care for student-athletes.
"March is National Athletic Training Month and we are proud to celebrate our 13 highly qualified, multi-skilled athletic trainers who collaborate with physicians to provide preventive services, emergency care, clinical diagnosis, therapeutic intervention and rehabilitation to student-athletes," said Shawn Bastin, executive director of rehabilitation services at Cabell Huntington Hospital.
Marshall Sports Medicine Institute is a collaboration between Marshall Health and Cabell Huntington Hospital. It provides athletic trainers to serve as a resource for the school's student-athletes and helps educate coaches, parents and administrators about treating common injuries, including concussions.
"You never know when someone is going to go down or get hurt. The aspect of simply having a professional here even for a 'just in case' is a huge weight off the coaches," said Tracy Brumfield, head baseball coach at Cabell Midland High School.
With pediatric concussions on the rise, MSMI's athletic trainers offer free baseline concussion testing for children ages 5-18. This proactive approach to concussion management establishes baseline data in healthy patients using C3 Logix, a concussion management system and ImPACT, a computerized concussion evaluation system.
"With spring and summer sports season just around the corner, we encourage every parent and coach to make themselves knowledgeable about the signs and symptoms of a concussion and, of course, take advantage of our free baseline testing," said Tom Belmaggio, MS, ATC, CSCS, sports medicine program coordinator of the Marshall Sports Medicine Institute. "Baseline concussion testing provides physicians information to make safer return-to-play decisions for younger athletes who sustain a concussion."
To schedule your child for a free baseline concussion test or for more information about the athletic training outreach program, call the Marshall Sports Medicine Institute at 304-691-1880 or Marshall Orthopaedics in Teays Valley at 304-691-6710.
###
---
Media Relations Contact
Michele McKnight
Assistant Director of External Affairs
304-691-1713 
mcknigh4@marshall.edu
---
Receive Marshall Health News
The Marshall Health newsroom offers our latest news releases, which are distributed through a Marshall University electronic mailing list.
To be added to this list, please e-mail your name, job title, e-mail address, media outlet and location to mcknigh4@marshall.edu.
---
Sign Up for Healthy Herd Updates

Sign up for Marshall Health's official blog. This digital resource is full of stories, recipes, health and wellness information to help you on your wellness journey. 
---
News Release Archives