Marshall School of Medicine establishes new dentistry department
Raj Khanna, D.M.D., M.D., tapped to lead department
4/28/2016
---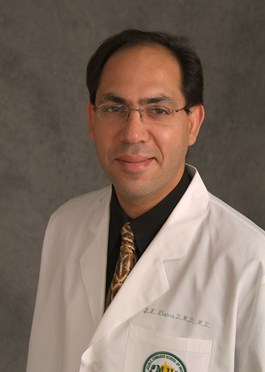 HUNTINGTON, W.Va. – Marshall University Joan C. Edwards School of Medicine has created a new department of dentistry, oral and maxillofacial surgery, Joseph I. Shapiro, M.D., dean of the school of medicine, announced today.
This announcement coincides with another recent announcement that the School of Medicine will partner with Cabell Huntington Hospital on a new one-year, general practice dental residency program beginning July 1. 
"In order to maximize success of the new residency program, the School of Medicine and Marshall Health have created dedicated departments for dental residency training and the practice of dentistry," Shapiro said. "This new structure will allow us to address oral health disparities in our region and the serious health problems that may come as a result."
Shapiro also announced that Raj K. Khanna, D.M.D., M.D., will serve as department chairman. Khanna is a professor and board-certified oral and maxillofacial surgeon who has served as the division chief of oral and maxillofacial surgery under the department of surgery since 2002. Khanna earned his Doctor of Medicine from MCP Hahnemann School of Medicine in Philadelphia, Pennsylvania, and his Doctor of Dental Medicine from the University of Pittsburgh, in Pittsburgh, Pennsylvania. He completed residencies at Mt. Sinai Medical Center in Cleveland, Ohio, and Allegheny General Hospital in Pittsburgh.
"I am honored to lead this new initiative at the School of Medicine," Khanna said. "Oral health is my passion and such a critical component of health care, especially in our region. By combining oral and maxillofacial surgery with general dentistry, we are now able to provide the comprehensive oral care that so many patients need." 
In addition to providing continued services in oral and maxillofacial surgery, the new department, under the name Marshall Dentistry & Oral Surgery, will begin offering comprehensive general dental services for adults and children, including adults and children with special needs, with the addition of several dentists in late summer 2016.
Khanna will continue seeing patients at his current Marshall University Medical Center office until the new Marshall Dentistry & Oral Surgery office opens Aug. 1. The newly renovated dental clinic will be housed in the Fairfield Building, located at 1616 13th Avenue in Huntington adjacent to Cabell Huntington Hospital. Clinic hours will be 8 a.m. to 5 p.m. Monday through Friday.
For more information or to schedule an appointment, contact Marshall Dentistry & Oral Surgery at 304-691-1247.
###
---
Media Relations Contact
Michele McKnight
Assistant Director of External Affairs
304-691-1713 
mcknigh4@marshall.edu
---
Receive Marshall Health News
The Marshall Health newsroom offers our latest news releases, which are distributed through a Marshall University electronic mailing list.
To be added to this list, please e-mail your name, job title, e-mail address, media outlet and location to mcknigh4@marshall.edu.
---
Sign Up for Healthy Herd Updates

Sign up for Marshall Health's official blog. This digital resource is full of stories, recipes, health and wellness information to help you on your wellness journey. 
---
News Release Archives