Marshall Psychiatry adds neuropsychologist
10/22/2015
---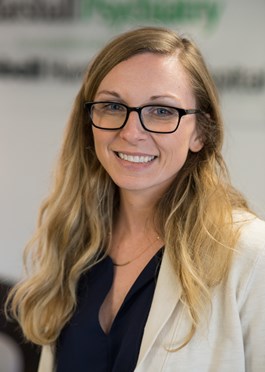 HUNTINGTON, W.Va. — The Marshall University Joan C. Edwards School of Medicine and Marshall Health welcomed the school's first neuropsychologist to its clinical faculty this month.
Michelle C. Hudson, Psy.D., joined the department of psychiatry and behavioral health as an assistant professor Oct. 16. She will assist in the evaluation and diagnosis of those with memory and dementia disorders, head trauma, stroke, epilepsy and many other neurologic disorders. 
Hudson earned her Doctor of Psychology in Clinical Psychology and a Master of Arts in Counseling Psychology, both at Adler University in Chicago. She also completed a neuropsychology fellowship at the University of Toledo (Ohio) Medical Center.
"We are very fortunate to recruit Dr. Michelle Hudson, a fellowship-trained neuropsychologist, to Marshall," said Suzanne Holroyd, M.D., chair of psychiatry and behavioral medicine. "There is a huge unmet need for neuropsychology services throughout this region. We look forward to her expertise in the care of our patients."
Hudson is accepting new referrals and patients at Marshall Psychiatry, located in the 20th Street Professional Building, 1115 20th Street, Suite 205, Huntington. For appointments, please call 304-691-1500.
###
Media Relations Contact
Michele McKnight, Community & Media Relations Coordinator
304-691-1713
mcknigh4@marshall.edu
---
Sign Up for Healthy Herd Updates

Sign up for Marshall Health's official blog. This digital resource is full of stories, recipes, health and wellness information to help you on your wellness journey. 
---
News Release Archives