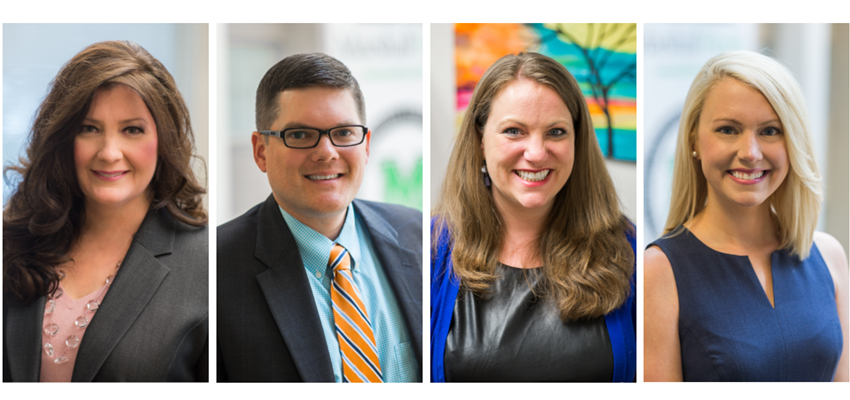 Marshall Health welcomes new administrators
6/13/2017
---
HUNTINGTON, W.Va. – Marshall Health, the faculty practice plan of the Marshall University Joan C. Edwards School of Medicine, has announced the addition of four individuals into leadership roles within the organization.
Evie Davis Garcia has been named department administrator for Marshall Cardiology. Davis has a bachelor's degree in English, journalism and cross-cultural communications from Liberty University and a master's degree in communication studies from Marshall University. Davis previously worked in human resources for the State of West Virginia and in various capacities for Lockheed Martin in Annapolis, Maryland, and Edison, New Jersey. She served as a past president for the West Virginia Chapter of the American Society for Training and Development. An avid traveler, she is also an active member of River Cities Community Church and Iglesia Hay Esperanza in Huntington.
---
Jarrett D. Gerlach, Esq., has been named department administrator for Marshall Pediatrics. Gerlach joined Marshall Health in 2015 as an operations analyst for the orthopaedics and pediatrics departments. Prior to working in health care administration, Gerlach practiced law at Dinsmore & Shohl LLP and Huddleston Bolen LLP in Huntington. He is a two-time Marshall University graduate, with a bachelor's degree in political science and a master's degree in health care administration. He earned his Juris Doctor from the West Virginia University College of Law and is a member of the West Virginia and Kentucky bar associations.  Gerlach is an active member of First United Methodist Church in Huntington.  
---
Cynthia J. Krantz has been named department administrator for Marshall Dermatology. Since joining Marshall Health in 2015, Krantz has overseen a number of projects for the department of dentistry and oral surgery,  the department of neurology, the office of faculty development and the office of graduate medical education for the Joan C. Edwards School of Medicine. Prior to her work with Marshall Health, she served as director of the Center for Christian Business Ethics Today. A native of New York, Krantz earned her bachelor's degree from Furman University in Greenville, South Carolina, and her master's degree from Marshall University.
---
Katie Thornhill is the operations manager for Marshall Health's new Teays Valley location. Prior to joining Marshall Health, she served as the branch manager for United Bank's largest branch in the Cabell-Wayne-Putnam market. In her new role, Thornhill oversees the daily operations of the Teays Valley facility, including building operations, personnel and marketing. She graduated from Marshall University with a Bachelor of Arts in public relations and is a member of the Pilot Club.
---
"In managing the day-to-day operations of our departments and facilities, these roles are critically important in ensuring a quality patient care experience," said Beth L. Hammers, executive director of Marshall Health. "We're thrilled to be able to promote several individuals who have proven themselves as valued leaders within Marshall Health, as well as welcome two new faces to the organization who bring new ideas and enthusiasm with them."
###
---
Media Relations Contact
Michele McKnight
Assistant Director of External Affairs
304-691-1713 
mcknigh4@marshall.edu
---
Receive Marshall Health News
The Marshall Health newsroom offers our latest news releases, which are distributed through a Marshall University electronic mailing list.
To be added to this list, please e-mail your name, job title, e-mail address, media outlet and location to mcknigh4@marshall.edu.
---
Sign Up for Healthy Herd Updates

Sign up for Marshall Health's official blog. This digital resource is full of stories, recipes, health and wellness information to help you on your wellness journey. 
---
News Release Archives