Marshall Health to launch Walk with a Doc program in Putnam County
10/16/2018
---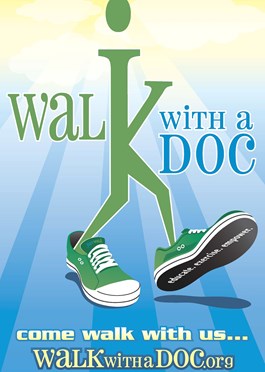 SCOTT DEPOT, W.Va. – Marshall Health-Teays Valley is encouraging local residents to step toward better health by bringing Walk with a Doc to Putnam County.
Walk with a Doc is a national program that brings doctors and patients together to walk and talk about their health concerns. Marshall Health's first scheduled Walk with a Doc is 8 a.m. Saturday, Nov. 3, at Valley Park in Hurricane. Participants will enjoy a rejuvenating walk with orthopaedic spine specialist Tom Reinsel, M.D., who will answer questions about back and neck pain during the event.
"It's had tremendous participation and success in hundreds of cities across the country," said Katie Thornhill, operations manager for Marshall Health-Teays Valley. "We'll be scheduling a number of themed walks throughout the year that will appeal to a wide range of patients."
According to the American Heart Association, walking as little as 30 minutes a day can improve blood pressure and blood sugar levels, help maintain a healthy body weight and lower the risk of obesity, enhance mental well-being and reduce the risk of osteoporosis.
"Increasing exercise, even moderately, reduces the risks of many diseases, including coronary heart disease, breast and colon cancer and type 2 diabetes," Reinsel said. "Research has shown that you could gain two hours of life for each hour that you exercise regularly."
Walk with a Doc is a national nonprofit organization whose mission is to encourage healthy physical activity in people of all ages and reverse the consequences of a sedentary lifestyle in order to improve the health and well-being of the country.
"Walk with a Doc is honored to team up with Marshall Health-Teays Valley," said David Sabgir, M.D., founder of Walk with a Doc and a Columbus, Ohio-based cardiologist. "By incorporating this program, Marshall Health is demonstrating an exceptional level of care and commitment to their community."
This public event is free and does not require preregistration.  For more information, call Marshall Health-Teays Valley at 304-691-6800.
###
---
Media Relations Contact
Michele McKnight
Assistant Director of External Affairs
304-691-1713 
mcknigh4@marshall.edu
---
Receive Marshall Health News
The Marshall Health newsroom offers our latest news releases, which are distributed through a Marshall University electronic mailing list.
To be added to this list, please e-mail your name, job title, e-mail address, media outlet and location to mcknigh4@marshall.edu.
---
Sign Up for Healthy Herd Updates

Sign up for Marshall Health's official blog. This digital resource is full of stories, recipes, health and wellness information to help you on your wellness journey. 
---
News Release Archives