Marshall Health surgeon is one of first in the country to perform ACL repair using new needle scope technology
4/26/2023
---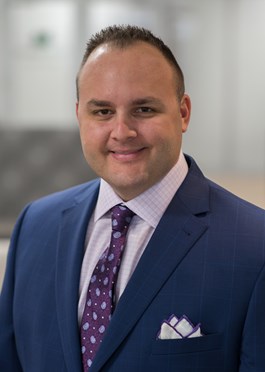 HUNTINGTON, W.Va. – Marshall Health orthopaedic surgeon Chad D. Lavender, M.D., is one of the first surgeons in the country to combine anterior cruciate ligament (ACL) repair using a new type of arthroscopic needle scope.
Unlike traditional portals and incisions, the 1.9 mm needle scope allows the surgeon to view images through a minimally invasive procedure, allowing access to tighter spaces.
Marshall Orthopaedics is one of the first five clinics in the country currently using this specific needle scope, which is part of the NanoScope system. Held similarly to a pencil, the scope does not require a hand piece.
"We have found the less-invasive approach of the needle scope typically results in easier postoperative rehabilitation and return to function for the patient -- a win-win for all those involved," said Lavender, an assistant professor at the Marshall University Joan C. Edwards School of Medicine.
When compared with conventional arthroscopy, procedures using the needle scope also usually result in smaller incisions, and in some instances, no incision at all. The largest cut for this particular ACL surgery was 1.5 cm.
"Due to the nature of this ACL tear and viability of the tissue, we were able to apply a newer type of ACL repair that uses the patient's anatomy to attach a button and screw with an internal brace," Lavender said.
Since Lavender was first introduced to the NanoScope system in 2020, he has performed more than 100 procedures, ranging from distal clavicle resections to rotator cuff repairs.
Surgeries are being performed at Cabell Huntington Hospital.
For more information about NanoScope procedures, please call Marshall Orthopaedics at 304-691-1262.
###
---
Media Relations Contact
Michele McKnight
Assistant Director of External Affairs
304-691-1713 
mcknigh4@marshall.edu
---
Receive Marshall Health News
The Marshall Health newsroom offers our latest news releases, which are distributed through a Marshall University electronic mailing list.
To be added to this list, please e-mail your name, job title, e-mail address, media outlet and location to mcknigh4@marshall.edu.
---
Sign Up for Healthy Herd Updates

Sign up for Marshall Health's official blog. This digital resource is full of stories, recipes, health and wellness information to help you on your wellness journey. 
---
News Release Archives