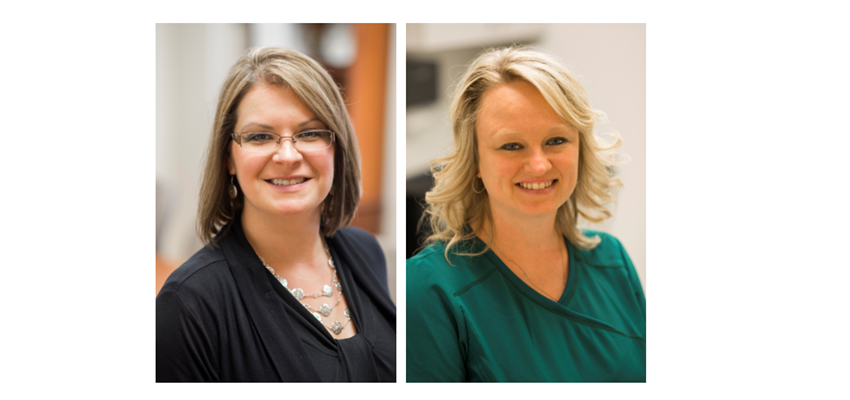 Marshall Health names Woodyard, Jeffrey to leadership roles
6/8/2016
---
HUNTINGTON, W.Va. – Lexa L. Woodyard, M.S., and Melissa A. Jeffrey, R.N., B.S.N., have been selected to fill key leadership roles within Marshall Health.
Woodyard has been named department administrator for Marshall Obstetrics and Gynecology. Prior to joining the Marshall Health team, Woodyard most recently worked as the physician practice administrator at Pleasant Valley Hospital in Point Pleasant, West Virginia. She also held various administrative positions at Cabell Huntington Hospital, including director of growth and development for perioperative services and director of the Cabell Huntington Hospital Surgery Center. Woodyard has a bachelor's degree in business management and a master's degree in health care administration, both from Marshall University.  
Jeffrey has been named director of nursing for Marshall Health. She has worked at Marshall Health as the clinic manager in the departments of neurosurgery and neurology since January 2015. Prior to joining Marshall Health, she worked as nursing director for Wyngate Assisted Living and director of nursing for NECCO Center. Jeffrey earned her associate degree in nursing and bachelor's degree, both from Ohio University.Woodyard will oversee the day-to-day operations, administrative and human resources functions of Marshall Obstetrics & Gynecology, a 16-physician clinical department of Marshall Health. 
Jeffrey will maintain her role in in the departments of neurosurgery and neurology part-time while assuming the director of nursing position. In her new role, Jeffrey will ensure that nursing standards of practice are consistent across the organization and work to maintain a high quality of patient care by the nursing staff.
"Both of these women are true leaders in their fields," said Beth L. Hammers, executive director of Marshall Health. "We look forward to benefiting from the enthusiasm and expertise they bring to their new roles."
###
---
Media Relations Contact
Michele McKnight
Assistant Director of External Affairs
304-691-1713 
mcknigh4@marshall.edu
---
Receive Marshall Health News
The Marshall Health newsroom offers our latest news releases, which are distributed through a Marshall University electronic mailing list.
To be added to this list, please e-mail your name, job title, e-mail address, media outlet and location to mcknigh4@marshall.edu.
---
Sign Up for Healthy Herd Updates

Sign up for Marshall Health's official blog. This digital resource is full of stories, recipes, health and wellness information to help you on your wellness journey. 
---
News Release Archives