Marshall Health names new director of pharmacy services
9/18/2017
---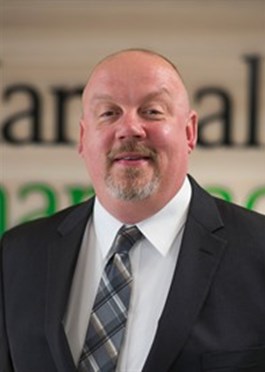 HUNTINGTON, W.Va. — Jeffrey A. Fenerty, R.Ph., has been named the director of pharmacy services for Marshall Health effective today, Monday, Sept. 18.
Fenerty, who graduated with a degree in pharmacy from the Philadelphia College of Pharmacy and Science, will be responsible for the overall retail pharmacy program at Marshall Health including mail-order, online prescription refills, tele-pharmacy, medication therapy management and meds to beds, a program that delivers medications to patients before they leave Cabell Huntington Hospital or Marshall Health clinics at the medical center. Fenerty will also oversee the pharmacy residency program.
He has 25 years of experience as a pharmacist and pharmacy manager including serving as an assistant director of pharmacy at Cabell Huntington Hospital and most recently as a project manager for cGMP Validation L.L.C., in Huntersville, N.C.
"We are very pleased that Mr. Fenerty is joining us," said Beth L. Hammers, executive director of Marshall Health. "He is an outstanding leader and brings significant knowledge ranging from retail and hospital experience to corporate pharmacy operations which will help advance quality patient care here at Marshall Health."
Fenerty replaces Brian Gallagher, R. Ph., J.D.,  who was named interim dean of the Marshall University School of Pharmacy following the retirement of inaugural dean Kevin Yingling, R. Ph., M.D.
Marshall Pharmacy opened in 2014 at the medical center as a partnership among Marshall Health, the Joan C. Edwards School of Medicine, the Marshall University School of Pharmacy and Cabell Huntington Hospital. A second location at the Byrd Clinical Center opened one year later.
###
Media Relations Contact
Michele McKnight, Community & Media Relations Coordinator
304-691-1713
mcknigh4@marshall.edu
---
Sign Up for Healthy Herd Updates

Sign up for Marshall Health's official blog. This digital resource is full of stories, recipes, health and wellness information to help you on your wellness journey. 
---
News Release Archives