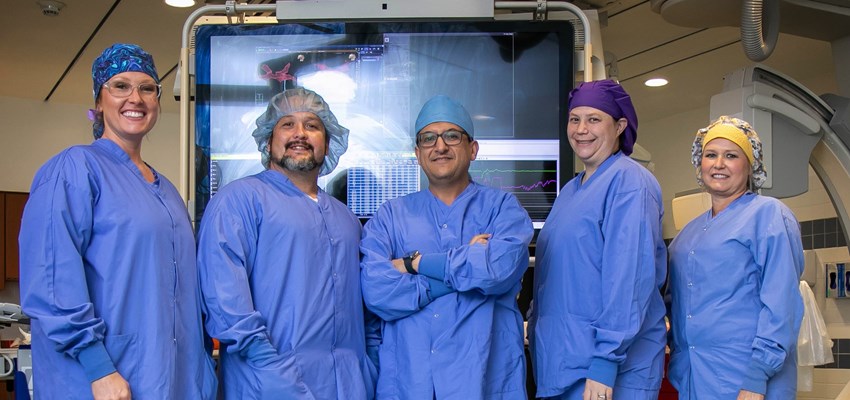 Marshall Health, Mountain Health Network perform state's first cardioneuroablation
5/27/2022
---
HUNTINGTON, W.Va. – Cardiologists at Marshall Health last week performed a cardioneuroablation for vasovagal syncope and bradycardia at St. Mary's Medical Center, a member of Mountain Health Network. This is the first time this procedure has been performed in West Virginia.
The ablation, which treats a sudden drop in heart rate, may reduce the need for a pacemaker among patients 60 and younger who suffer from recurrent dizzy spells or fainting episodes despite continued medical treatment and care.
"We are excited to offer this much-needed new treatment for younger patients who suffer from recurrent fainting spells," said Electrophysiologist Khalid Abozguia, M.D., Ph.D., the associate professor of cardiovascular services at the Marshall University Joan C. Edwards School of Medicine, who performed the procedure. 
During the two-hour procedure, catheters are advanced into the heart. An ablation catheter then deploys radiofrequency lesions to destroy neurons located within the heart that are responsible for slowing the heart rate, thus eliminating fainting spells related to sudden drops in heart rate.
"Our experienced team is proud to assist Dr. Abozguia in bringing this procedure to our community," said Melissa Mielcarek, M.S.H.A., M.B.A., executive director of the St. Mary's Regional Heart Institute. "It is a valuable addition to the procedures we offer for the treatment of heart rhythm irregularities."
"Dr. Abozguia is a highly trained electrophysiologist with many years of unique, diverse experiences that benefit our medical community," said Mehiar El-Hamdani, M.D., professor and chair of the departments of cardiovascular services and internal medicine at the Joan C. Edwards School of Medicine. "Together, our teams at Marshall Health and Mountain Health Network are collaborating to bring highly qualified physicians, state-of-the-art resources and advanced therapies like cardioneuroablation to our region."
The patient, Rebecca Sturgeon, 55, of Letart, in Mason County, West Virginia, spent one night in the hospital following her surgery and was released the next day.
"I feel great," Sturgeon said one week following her surgery. "I don't feel tired anymore. I sleep well, and I wake up early."
For more information, visit marshallhealth.org/cardiology or call 304-691-8500.
###
---
Media Relations Contact
Michele McKnight
Assistant Director of External Affairs
304-691-1713 
mcknigh4@marshall.edu
---
Receive Marshall Health News
The Marshall Health newsroom offers our latest news releases, which are distributed through a Marshall University electronic mailing list.
To be added to this list, please e-mail your name, job title, e-mail address, media outlet and location to mcknigh4@marshall.edu.
---
Sign Up for Healthy Herd Updates

Sign up for Marshall Health's official blog. This digital resource is full of stories, recipes, health and wellness information to help you on your wellness journey. 
---
News Release Archives