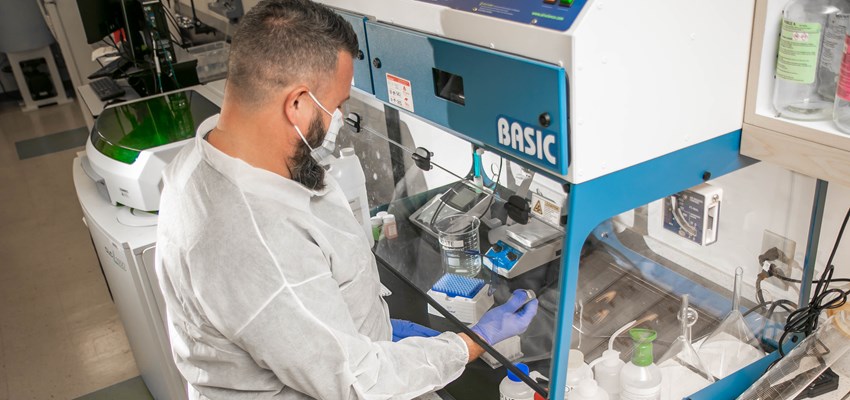 Marshall Health, Mountain Health Network launch new drug testing services
11/30/2022
---
HUNTINGTON, W.Va. – Advanced toxicology services are now available through a joint initiative owned and operated by Marshall Health and Mountain Health Network. 
Mountain Health Clinical Solutions (MHCS) provides urine testing for drugs of abuse for employers and health care providers and is able to deliver results within three business days. Employers may also utilize MHCS services for new employee testing, as well as continuous monitoring to record their compliance with state and federal laws.
MHCS uses liquid chromatograph tandem mass spectrometer (LC/MS/MS) technology, the gold standard in toxicology, to provide high sensitivity and reliable results to health care providers and employers. On-site specimen collection is available upon request.
"We have assembled a local team of experts focused on quality testing complemented by shortened turnaround times," said Krista L. Denning, M.D., medical director of MHCS and professor and chair of pathology at the Marshall University Joan C. Edwards School of Medicine. "Our testing takes place in state, and MHCS is well equipped to address the growing workforce demand for testing services throughout West Virginia and the Tri-state."
MHCS also offers free consultation and compliance monitoring services to help health care providers ensure patients are taking medications as prescribed.
"The work we're doing at MHCS is helping health care providers give their patients the care they need and helping employers throughout our region ensure they can support a safe and drug-free workplace," said Kristen Bailey, M.S., managing toxicologist for MHCS and the Cabell Huntington Hospital laboratory.
The Huntington-based Mountain Health Clinical Solutions is accredited by the College of American Pathologists and Clinical Laboratory Improvement Amendments (CLIA). For more information, or to schedule a consultation, visit http://www.mountainhealthclinicalsolutions.org/ or call 304-781-4445.
---
Media Relations Contact
Michele McKnight
Assistant Director of External Affairs
304-691-1713 
mcknigh4@marshall.edu
---
Receive Marshall Health News
The Marshall Health newsroom offers our latest news releases, which are distributed through a Marshall University electronic mailing list.
To be added to this list, please e-mail your name, job title, e-mail address, media outlet and location to mcknigh4@marshall.edu.
---
Sign Up for Healthy Herd Updates

Sign up for Marshall Health's official blog. This digital resource is full of stories, recipes, health and wellness information to help you on your wellness journey. 
---
News Release Archives