Marshall Health integrates AI tool to prevent vision loss for patients with diabetes
7/19/2023
---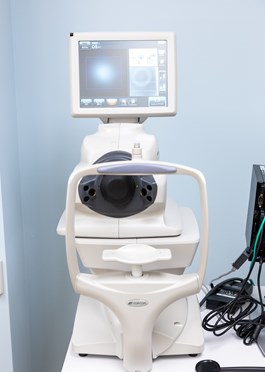 HUNTINGTON, W.Va. – Marshall Health is now using artificial intelligence (AI) to test patients with diabetes for diabetic retinopathy, a leading cause of blindness.  
Using the AI system known as LumineticsCore™ (formerly IDx-DR), Marshall Health is working with patients with diabetes and their primary care providers to identify signs of eye disease and provide more opportunities for early intervention before vision loss occurs. Diabetic retinopathy is a serious complication of diabetes that can lead to blindness if not detected in its early stages, making regular eye exams essential to patients with diabetes.
"Marshall Health is committed to staying on the forefront of medical advances that improve patient outcomes," said Shannon L. Browning, R.Ph., M.D., chief medical information officer for Marshall Health and associate professor of medicine at the Marshall University Joan C. Edwards School of Medicine. "This includes leveraging technologies like AI to increase patient access to care. While this exam does not replace a comprehensive eye exam by an eye care professional, the LumineticsCore exam provides a convenient option for our patients with diabetes to prevent vision loss during their regularly-scheduled visit with their primary care provider."
The AI system is now available in two of Marshall Health's Huntington clinics thanks to generous grant support from The Huntington Foundation. The advanced system uses a special fundus camera to take pictures of the patient's retinas in the back part of the eye. The LumineticsCore exam is typically completed in minutes. The pictures are then evaluated by the AI's diagnostic software, which searches for signs of diabetic retinopathy. An immediate diagnostic report is produced at the point-of-care, allowing providers to discuss the results with the patient while they are in the office.
Any individual with diabetes, including type 1, type 2 and gestational, is at risk of developing diabetic retinopathy. To schedule an appointment, contact your primary care provider at Marshall Health. To learn more, visit marshallhealth.org/services/ophthalmology/diabetic-eye-exams.
###
 About Marshall Health
Marshall Health is the clinical enterprise of Marshall University and its Joan C. Edwards School of Medicine. Marshall Health brings together leading clinicians and researchers to provide world-class care throughout southern West Virginia, Ohio and Kentucky. With more than 420 providers in 75 areas of primary and specialty care, Marshall Health's impact extends to more than 40 outpatient clinics across the region. To learn more, visit marshallhealth.org. 


About Digital Diagnostics Inc.
Digital Diagnostics Inc. is a pioneering AI diagnostics company on a mission to transform the quality, accessibility, equity, and affordability of global health care through the application of technology in the medical diagnosis and treatment process. The company, originally founded by Michael Abramoff, MD, PhD, a neuroscientist, practicing fellowship-trained retina specialist, and computer engineer, is led by him and co-founders John Bertrand and Seth Rainford.
LumineticsCore™ (formerly IDx-DR) is an FDA-cleared AI-based diagnostic system designed for use at the front lines of care to detect diabetic retinopathy (including macular edema), a common complication of diabetes and a leading cause of blindness. LumineticsCore is cleared by the FDA to make a diagnosis without the need for a clinician to also interpret the image or result, making it usable by health care providers who may not normally be involved in eye care. For more information and the latest news follow: https://digitaldiagnostics.com/.
---
Media Relations Contact
Michele McKnight
Assistant Director of External Affairs
304-691-1713 
mcknigh4@marshall.edu
---
Receive Marshall Health News
The Marshall Health newsroom offers our latest news releases, which are distributed through a Marshall University electronic mailing list.
To be added to this list, please e-mail your name, job title, e-mail address, media outlet and location to mcknigh4@marshall.edu.
---
Sign Up for Healthy Herd Updates

Sign up for Marshall Health's official blog. This digital resource is full of stories, recipes, health and wellness information to help you on your wellness journey. 
---
News Release Archives