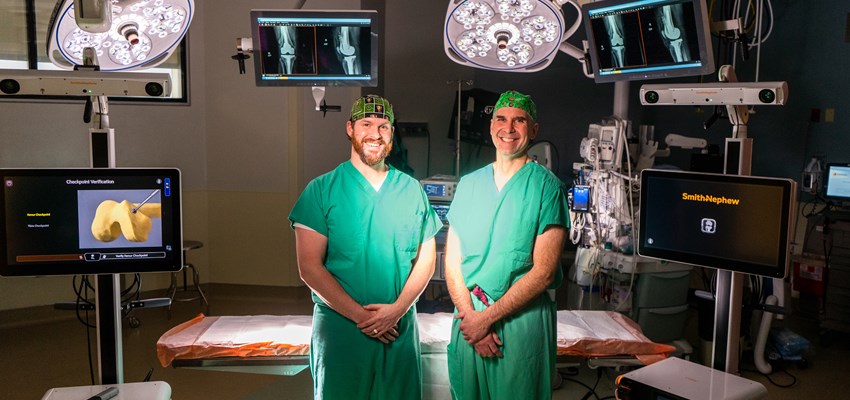 Marshall Health, Cabell Huntington Hospital offer image-free robotic-assisted knee replacement and computer-guided hip replacement through new CORI Surgical System
4/4/2023
---
HUNTINGTON, W.Va. – The orthopaedic team at Marshall Health and Cabell Huntington Hospital, a member of Mountain Health Network, now offers the latest Smith+Nephew CORITM Surgical System for knee and hip replacement.
"The CORI Surgical System is designed to offer broader capabilities and expand our range of robotic-assisted replacements for those seeking total knee and partial knee replacement as well as revision knee surgery," said Matthew Bullock, D.O., Marshall Health orthopaedic surgeon at Cabell Huntington Hospital and associate professor at the Marshall University Joan C. Edwards School of Medicine. "The CORI Surgical System has specific software that enables surgeons to 'map out' the knee area during surgery instead of using a CT scan. After the mapping process, surgeons have an accurate model of the patient's knee that allows the surgery to be fully customized to the patient."
In addition to the modeling features, the CORI Surgical System includes a handheld device with which surgeons can shape the bone for fitting of the knee implants. Dr. Bullock noted this design offers a powerful combination: the surgeon's trained hand and the system's digital technology.
"We also use the CORI Surgical System in hip replacement," said Dr. Bullock, "leveraging the platform's technology for computer-guided surgery and patient-specific implant alignment."
As part of their joint replacement procedures, patients may receive implants made of OXINIUMTM Oxidized Zirconium, a cutting-edge material available only from Smith+Nephew. According to Dr. Bullock, OXINIUM implants for the knee and hip have a strong record of performance and durability, including for patients who have concerns about implant materials.
Huntington resident Melissa Ash said the CORI Surgical System has changed her life.
"For the last 10 years, I have struggled to manage my knee pain and felt reluctant to get a total knee replacement," Ash said. "When I first met with Dr. Bullock, he told me about the CORI system, and after reviewing the benefits, I chose to have my total knee replacement surgery at Cabell Huntington Hospital. Dr. Bullock's level of understanding and knowledge ensuring his patients have a better quality of life post-surgery is unmatched." Melissa has had both of her knees replaced with the CORI Surgical System and OXINIUM implants. She has completed her therapy and is now pain-free and back to enjoying life again.
The CORI Surgical System is also the first robotic-assisted system to be indicated for use in revision knee surgery. 
"Image-free smart mapping eliminates the potential for image distortion, with 3D joint models registering anatomy in detail," said Alexander T. Caughran, M.D., Marshall Health orthopaedic surgeon at Cabell Huntington Hospital and assistant professor at the School of Medicine. "From a research standpoint, we want to continue our study of robotic-assisted revision knee replacement, and the CORITM system enables us to do so."
Marshall Orthopaedics is the largest provider group in the Tri-State region that offers robotic-assisted knee replacement and computer-guided hip replacement with the CORI Surgical System.
For more information, call Marshall Orthopaedics at 304-691-1262.
 ###
Photo: Marshall Health orthopaedic surgeons Dr. Alexander Caughran and Dr. Matthew Bullock now offer the latest Smith+Nephew CORI Surgical System for knee and hip replacement at Cabell Huntington Hospital.
---
Media Relations Contact
Michele McKnight
Assistant Director of External Affairs
304-691-1713 
mcknigh4@marshall.edu
---
Receive Marshall Health News
The Marshall Health newsroom offers our latest news releases, which are distributed through a Marshall University electronic mailing list.
To be added to this list, please e-mail your name, job title, e-mail address, media outlet and location to mcknigh4@marshall.edu.
---
Sign Up for Healthy Herd Updates

Sign up for Marshall Health's official blog. This digital resource is full of stories, recipes, health and wellness information to help you on your wellness journey. 
---
News Release Archives