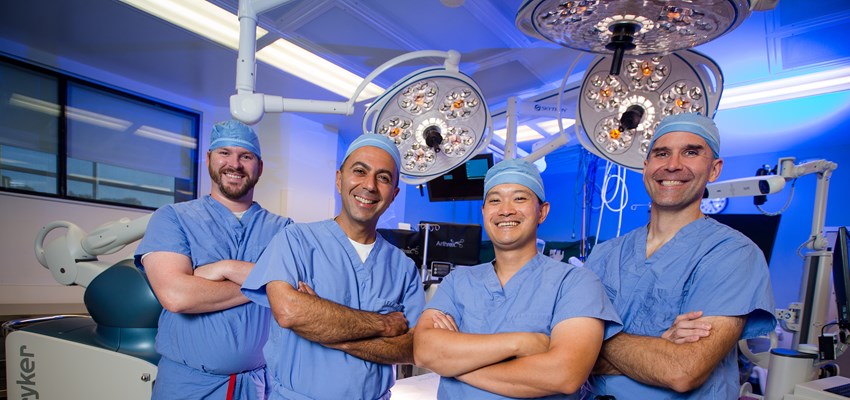 Marshall Health, Cabell Huntington Hospital celebrate 650th robotic-assisted knee and hip replacement
1/17/2023
---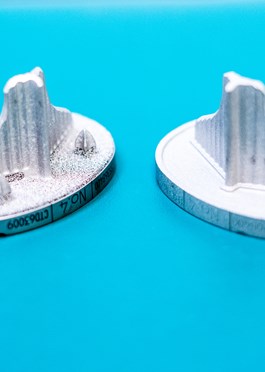 HUNTINGTON, W.Va. – The orthopaedic team at Marshall Health and Cabell Huntington Hospital, a member of Mountain Health Network, ended 2022 by completing its 650th Mako robotic-assisted knee and hip replacement.
"Our initial goal was to complete 500 cases in five years, but thanks to the commitment of our team of administrators, nurses, therapists, operating staff and surgeons, we eclipsed this milestone in just three years," said Matthew Bullock, D.O., Marshall Health orthopaedic surgeon and associate professor at the Marshall University Joan C. Edwards School of Medicine.
Marshall Orthopaedics is the largest provider group in the Tri-State region that offers robotic-assisted knee and hip replacements using Mako computer-assisted technology.
Unlike with traditional knee and hip replacement, the Mako system enables surgeons to use a robotic-assisted arm that allows more customization and precision. With the system, surgeons can see all aspects of the replacement strategy and plan for areas of deficient bone or existing hardware from other surgeries. Implants can be placed within 1 mm and 1 degree of the intended position.
Newly designed cementless implants are also used to allow the patient's bone to grow into the implant forming a natural bond. Eliminating the need for cement to cure shortens surgeries and, when combined with robotic surgery, makes the surgeon more efficient in the operating room.
Bullock and his Marshall Health colleague Alexander T. Caughran, M.D., have also been among the first in the country to utilize the Mako robotic system for revision total knee replacements. Their research, including several ongoing studies, focuses on the integration and standardization of applying the Mako system for revision knee replacements.
"We have applied this powerful tool for revision total joint replacements in hopes of increasing the implants' longevity and decreasing the likelihood of re-revision surgery," said Caughran, orthopaedic surgeon and assistant professor at the Joan C. Edwards School of Medicine. "Results have been promising, and we continue to conduct research in this area."   
In addition to Bullock and Caughran, Marshall Orthopaedics' joint replacement team includes Ali Oliashirazi, M.D., chair and professor, and Felix H. Cheung, M.D., associate professor.
For more information or appointments, call 304-691-1262 or visit marshallhealth.org/mako.
###
Photo: Marshall Orthopaedics' joint replacement team includes board-certified orthopaedic surgeons Dr. Alexander Caughran, Dr. Ali Oliashirazi, Dr. Felix Cheung and Dr. Matthew Bullock.
Photo: The cementless implant (left) and cemented implant (right) used in Mako joint replacements. Cementless implants allow the patient's bone to naturally form a bond.
About Marshall Health
Marshall Health is the clinical enterprise of Marshall University and its Joan C. Edwards School of Medicine. Marshall Health brings together a comprehensive care team of 400 providers in 75 areas of primary and specialty care. As part of an academic health system, Marshall Health is committed to improving access to care throughout southern West Virginia, Ohio and Kentucky through advanced technologies and research that benefit its patients and the communities it serves. To learn more, visit marshallhealth.org. 
About Mountain Health Network
Mountain Health Network is a West Virginia-based not-for-profit health delivery system comprised of Cabell Huntington Hospital, a 303-bed teaching hospital for Marshall University Schools of Medicine, Pharmacy and Nursing; St. Mary's Medical Center, a 393-bed teaching hospital that operates St. Mary's Schools of Nursing, Respiratory Care and Medical Imaging; Hoops Family Children's Hospital, a 72-bed pediatric specialty hospital within Cabell Huntington Hospital; HIMG, an 80-member multi-specialty physician group; and Pleasant Valley Hospital, a 101 acute-bed hospital. Mountain Health is committed to improving the health and well-being of over one million children and adults in 38 counties in West Virginia, southern Ohio and eastern Kentucky through understanding, respecting and meeting their needs. To learn more, visit www.mountainhealthnetwork.org.
---
Media Relations Contact
Michele McKnight
Assistant Director of External Affairs
304-691-1713 
mcknigh4@marshall.edu
---
Receive Marshall Health News
The Marshall Health newsroom offers our latest news releases, which are distributed through a Marshall University electronic mailing list.
To be added to this list, please e-mail your name, job title, e-mail address, media outlet and location to mcknigh4@marshall.edu.
---
Sign Up for Healthy Herd Updates

Sign up for Marshall Health's official blog. This digital resource is full of stories, recipes, health and wellness information to help you on your wellness journey. 
---
News Release Archives