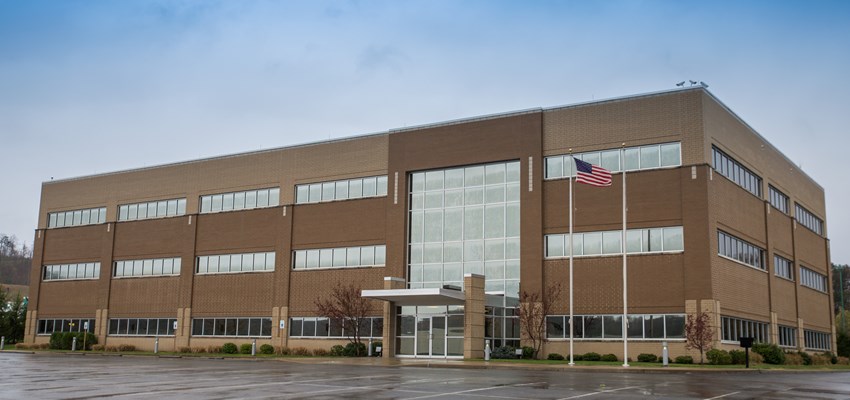 Marshall Health buys Patriot Coal building
Expansion allows additional opportunities for Marshall School of Medicine
4/11/2016
---
SCOTT DEPOT, W.Va. - Marshall Health has purchased the former Patriot Coal corporate headquarters building in Scott Depot with plans to begin offering expanded services in Putnam County by early 2017.
Marshall Health, the faculty practice plan of the Marshall University Joan C. Edwards School of Medicine, expects to begin the process of converting the 51,000 square foot, three-story office building located at 300 Corporate Center Drive into medical offices this summer. The building, which Marshall Health purchased for $5.3 million, will allow the practice plan to merge its existing Hurricane offices under one roof and begin offering more specialty services in the Teays Valley area, while also increasing the medical school's capacity for medical students and residents to train in an outpatient setting.  
"This is a fantastic opportunity for the School of Medicine and our faculty practice plan to broaden the clinical experiences our students and residents receive," said Joseph I. Shapiro, M.D., dean of the Marshall University Joan C. Edwards School of Medicine. "We also look forward to working collaboratively with our fellow health care providers, including a number of alumni, in Putnam County to help meet the needs of the region."
Marshall Health first began offering medical services in Putnam County in the early 1990s. Currently, more than a dozen Marshall Health physicians see patients exclusively or on a rotating basis in one of its Hurricane offices.  
"We have been looking for the right opportunity to invest and grow in Putnam County," said Beth L. Hammers, executive director of Marshall Health. "The former Patriot Coal building offered the amount of space we needed to merge our current practices and bring new specializations to the region." 
Preliminary plans for the new Marshall Health facility call for expanded primary care and specialty services under one roof, including general internal medicine, pediatrics, women's health, gastroenterology, cardiology, orthopaedics and more.
The 2.48-acre lot was built in 2006 as the headquarters for International Coal Group, Inc. and most recently served as the headquarters for Patriot Coal. It is conveniently located adjacent to Interstate 64, between the Teays Valley and Crooked Creek exits, and offers ample parking.
###
---
Media Relations Contact
Michele McKnight
Assistant Director of External Affairs
304-691-1713 
mcknigh4@marshall.edu
---
Receive Marshall Health News
The Marshall Health newsroom offers our latest news releases, which are distributed through a Marshall University electronic mailing list.
To be added to this list, please e-mail your name, job title, e-mail address, media outlet and location to mcknigh4@marshall.edu.
---
Sign Up for Healthy Herd Updates

Sign up for Marshall Health's official blog. This digital resource is full of stories, recipes, health and wellness information to help you on your wellness journey. 
---
News Release Archives