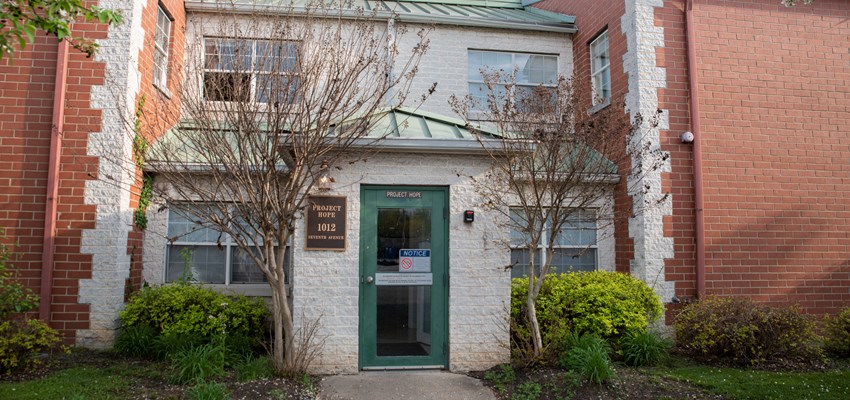 Marshall Health begins renovations on residential treatment facility
6/25/2018
---
HUNTINGTON, W.Va. – Construction is underway on what will become the region's newest residential treatment facility for women and their children.
Marshall Health, in cooperation with the Huntington City Mission, began renovating a 15,000-square-foot building located on the northeast corner of 7th Avenue and 10th Street in Huntington next to the city mission. The building formerly known as "Project Hope" will become home to "Project Hope for Women and Children," the latest Marshall Health initiative designed to provide a continuum of care for women suffering from substance use disorder and their children.
Each of the 18 apartments will consist of two or three bedrooms, one bathroom, a living room and kitchenette. The program is funded through a grant from the West Virginia Department of Health and Human Resources.
"One of our overarching goals as a health organization is to treat families and put them on the path toward a healthier lifestyle," said Beth L. Hammers, chief executive officer of Marshall Health. "Project Hope for Women and Children meets a defined need in our community while complementing existing services, like our Maternal Addiction Recovery Center (MARC) as well as Lily's Place, Recovery Point and others."
Some services, such as peer and residential supports and family therapy will be provided on site, but many of the services, including medication assisted treatment, will be delivered in outpatient locations, like PROACT, a health care collaborative announced in April 2018 that will act as a single-accessible service hub for addiction care and treatment.
"The cornerstone of this program is that it keeps mothers with their children and supports them on their path toward recovery," said Stephen M. Petrany, M.D., chair of the department of family and community health at the Marshall University Joan C. Edwards School of Medicine. "Beyond treatment, Project Hope for Women & Children will help residents put life skills into practice, give their children a sense of stability and teach them to raise their children in a way that promotes healthy habits early on."
"It is with great joy that we enter into this partnership with Marshall Health. The opportunity to serve this vulnerable population of our community resonates with our calling and mission," said Mitch Webb, executive director of the Huntington City Mission.
Marshall Health is using Huntington-based businesses for the renovation project, including Edward Tucker Architects and Neighborgall Construction. Renovations on the Project Hope building are expected to be complete by October 2018.
###
---
Media Relations Contact
Michele McKnight
Assistant Director of External Affairs
304-691-1713 
mcknigh4@marshall.edu
---
Receive Marshall Health News
The Marshall Health newsroom offers our latest news releases, which are distributed through a Marshall University electronic mailing list.
To be added to this list, please e-mail your name, job title, e-mail address, media outlet and location to mcknigh4@marshall.edu.
---
Sign Up for Healthy Herd Updates

Sign up for Marshall Health's official blog. This digital resource is full of stories, recipes, health and wellness information to help you on your wellness journey. 
---
News Release Archives