Leading medical institutions form substance use recovery group
PROACT designed to serve needs of families, individuals, providers and community
4/25/2018
---
HUNTINGTON, W.Va. -- Health care leaders in the Huntington/Charleston region have joined forces to form PROACT, the Provider Response Organization for Addiction Care and Treatment, to address the clinical, behavioral, spiritual and professional issues of those affected by the epidemic of substance use.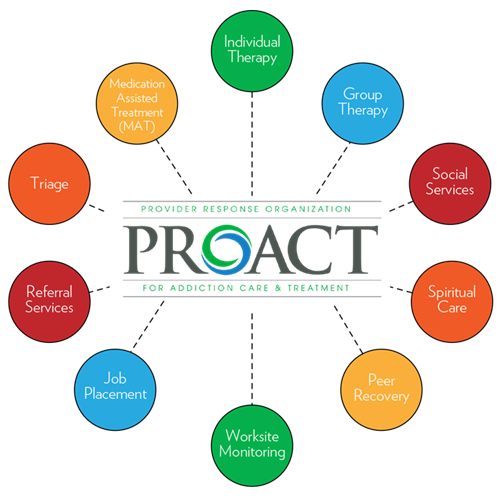 Partner institutions include Cabell Huntington Hospital, St. Mary's Medical Center and Marshall Health, which have each committed financial and human resources to the collective organization. Additionally, Thomas Health and Valley Health have become members of PROACT, extending the reach of and expanding the partnership. The non-profit organization will rely on funding from its founding institutions, grant awards, business operations and private donations to sustain its efforts in the years to come.
PROACT services will be provided to individuals on a referral and walk-in basis. The center's staff will provide an immediate needs assessment for the individual and then placement within the most beneficial avenues for that person's needs. The PROACT system is designed to fill the gaps at critical access points that currently exist in the substance use disorder arena for both patients and providers.
"We are very excited to see this partnership of health care providers using their collective resources to address a very significant public health issue," said Gene Preston, vice president at Cabell Huntington Hospital and president of the PROACT board of directors. "Truly, our community's strength is harnessed in what will make a substantial difference in this area."
PROACT's goal is to provide individuals and their families with a viable system that provides positive outcomes. The center will function as the centralized hub for treatment, recovery, therapy, education, research, workforce opportunities and support for those affected by addiction. PROACT will improve and increase access for patients and providers dealing with substance use disorder as well provide the necessary support for all community physicians treating patients with the disorder.
"Our community has needs that run very deep. All of our organizations have made efforts to combat the addiction issues here and the most recent statistics have shown that progress is being made in our community. We hope that the unification of those efforts will further help perpetuate these positive results," said Angie Swearingen, vice president of finance at St. Mary's Medical Center and PROACT board member.
PROACT will be staffed by one coordinating director and rely upon committed human resources from the sponsoring organizations and outside entities. Individual and group therapy options, medication-assisted treatment (MAT), recovery programs and other substance use-focused considerations are among the many pathways that will be available.
"Going back three-to-five years, you can recognize efforts throughout Huntington as pioneering in many of the most beneficial and proven innovations that have helped in the treatment of substance use disorders," said Kevin Yingling, R.Ph., M.D., chair of the board of directors at Cabell Huntington Hospital and professor of internal medicine at the Marshall University Joan C. Edwards School of Medicine. "The Quick Response Team, Lily's Place and the development of the enhanced Harm Reduction Coalition are examples of the work initiated by our community's leadership toward the challenges of substance use. It's a cornerstone moment for this effort and hopes are that it will be a model for other communities to replicate."
The long-term vision for PROACT includes growth in services and areas recognized as beneficial for all those involved, including individuals, families, employers, government and others.
"This hub and spoke model will allow us to implement best practices for the treatment of substance use disorders including important care pathways and continuum of care," said Beth Hammers, CEO of Marshall Health and vice president of the PROACT board of directors.
Geographically, the PROACT model will initially encompass the Charleston-Huntington region and other areas of the state via telemedicine capabilities.
"The struggles of substance use are not unique to Charleston, to Huntington, or to any city. They're real and they're happening everywhere. We believe in the PROACT effort and we're proud to join the team," said Daniel Lauffer, President and CEO of Thomas Health.
The center's physical location in Huntington will be forthcoming in the next few weeks. More information about PROACT and the partner organizations is available at www.proactwv.com.
###
Contact: Chris Michael
Bulldog Creative Services (on behalf of PROACT)
304-525-9600


---
Media Relations Contact
Michele McKnight
Assistant Director of External Affairs
304-691-1713 
mcknigh4@marshall.edu
---
Receive Marshall Health News
The Marshall Health newsroom offers our latest news releases, which are distributed through a Marshall University electronic mailing list.
To be added to this list, please e-mail your name, job title, e-mail address, media outlet and location to mcknigh4@marshall.edu.
---
Sign Up for Healthy Herd Updates

Sign up for Marshall Health's official blog. This digital resource is full of stories, recipes, health and wellness information to help you on your wellness journey. 
---
News Release Archives