Gerard Oakley, M.D., an ECCC founding physician, announces retirement
1/12/2018
---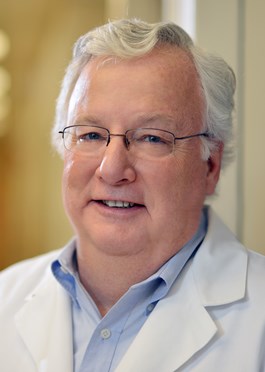 HUNTINGTON, W.Va. - Gerard J. Oakley, M.D., gynecologic oncologist, longtime cancer specialist and Chief of the Division of Gynecologic Oncology at Marshall University Joan C. Edwards School of Medicine, has announced his retirement from the school, Marshall Health and the Medical and Dental Staff at Cabell Huntington Hospital (CHH) effective Jan. 12, 2018. 
Dr. Oakley came to Huntington in 1997 as a faculty member at the school of medicine and is a founding physician of the Edwards Comprehensive Cancer Center (ECCC). He is the first Executive Director of Perioperative Services at CHH and has directed clinical operations that include programs for surgical oncology, pediatric oncology, medical oncology and hematology and radiation oncology for the diagnosis and treatment of various types of cancer.
"Dr. Oakley has been a strong leader in bringing the latest technology, recruiting the highest level of specialists and advocating gold level quality standards at the ECCC," said Kevin Fowler, president and CEO of Cabell Huntington Hospital. "His top priority always has been to provide excellent care and treatment for his patients. We are honored that he chose Cabell Huntington Hospital to share his talents." Dr. Oakley is the only physician to receive the prestigious Ambassador Award, presented by the president and CEO of Cabell Huntington Hospital.
During his career, Dr. Oakley held numerous hospital and academic leadership positions including Professor and Chief of the Division of Gynecologic Oncology in the Department of Obstetrics and Gynecology at Marshall University Joan C. Edwards School of Medicine; Chair of the Oncology Committee at Cabell Huntington Hospital and President of the Medical Staff at Cabell Huntington Hospital. He also led the development of the Institute for Minimally Invasive Surgery and was instrumental in the Robotic Surgery Center of Excellence designation.
"Dr. Oakley has been an important member of the school of medicine for more than a decade," said Joseph I. Shapiro, M.D., dean of the Marshall University school of medicine. "His guidance on many levels has not only helped mold our cancer center into a first-class facility, but also enabled outstanding educational opportunities for our students and residents in gynecologic oncology. We wish him the best in retirement."
For more than 10 years, Dr. Oakley served in the department of obstetrics and gynecology at the school of medicine, currently led by David C. Jude, M.D.
"Dr. Oakley has had a profound impact on all of the obstetricians/gynecologists he has helped train," Jude said. "Many of these physicians are practicing in the Huntington area. All of them incorporate surgical skills into their practice that they learned from Dr. Oakley."
Dr. Oakley earned his medical degree at the University of Michigan and completed his fellowship training in gynecologic oncology at the University of Minnesota. He is certified by the American Board of Obstetrics and Gynecology and is a fellow of the American College of Obstetricians and Gynecologists.
He is also a veteran of the United States Military serving in the U.S. Air Force from 1979 to 1997 and continuing with the West Virginia National Guard from 1998 to 2004. He is a retired Lieutenant Colonel. He and his wife, Tanyia, plan to retire in Hilton Head Island, South Carolina.
Dr. Oakley is being honored with an endowed scholarship in his name for medical students at Marshall's School of Medicine, courtesy of donations by Cabell Huntington Hospital and Marshall Health. For more information or to make a gift to the school of medicine, please contact Linda L. Holmes, director of development and alumni affairs at 304-691-1711.
###
---
Media Relations Contact
Michele McKnight
Assistant Director of External Affairs
304-691-1713 
mcknigh4@marshall.edu
---
Receive Marshall Health News
The Marshall Health newsroom offers our latest news releases, which are distributed through a Marshall University electronic mailing list.
To be added to this list, please e-mail your name, job title, e-mail address, media outlet and location to mcknigh4@marshall.edu.
---
Sign Up for Healthy Herd Updates

Sign up for Marshall Health's official blog. This digital resource is full of stories, recipes, health and wellness information to help you on your wellness journey. 
---
News Release Archives