Dr. Lyn O'Connell joins addiction sciences team at Marshall School of Medicine
9/11/2018
---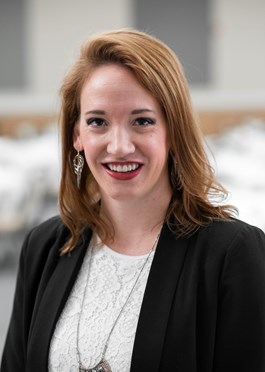 HUNTINGTON, W.Va. – Lyn M. O'Connell, Ph.D., has been named associate director of community services in the department of family and community health's division of addiction sciences at the Marshall University Joan C. Edwards School of Medicine and Marshall Health.
O'Connell, a Virginia native, relocated to the Tri-state in 2014 and joined the Prestera Center as a family therapist. In 2015, O'Connell became the clinical director of the Marshall University Screening, Brief Intervention, and Referral to Treatment (SBIRT) program under Amy Saunders. Since that time, O'Connell and the SBIRT team have integrated the SBIRT curriculum into 10 departments or schools at Marshall and trained closed to 5,000 individuals on the evidence-based practice. O'Connell also serves as the member of the Marshall Substance Use Recovery Coalition, Healthy Connections Coalition, and as the chair of the Cabell County Substance Abuse Prevention Partnership (CCSAPP).
In her new role in the School of Medicine's division of addiction sciences, O'Connell will help advise, implement and grow Marshall Health's community-based services that are responding to substance use in the community and the underlying causes, such as trauma. As a faculty member she will contribute to research, teaching and seeing clients from a systemic family therapy perspective.
"We are excited to have Dr. O'Connell join the Department of Family and Community Health here at the medical school," said Stephen M. Petrany, M.D., chairman of the department of family and community health at the Joan C. Edwards School of Medicine. "Lyn's credentials, experience and passion make her the ideal person to take on such an important position in support of our efforts to address the region's opioid crisis."
O'Connell earned her Bachelor of Arts in Scientific and Philosophical Studies of Mind and Religious Studies from Franklin & Marshall College in Lancaster, Pennsylvania, followed by a Master of Arts in Marriage and Family Therapy from the University of Connecticut in Storrs, Connecticut. O'Connell's Ph.D. is also in Marriage and Family Therapy from Virginia Tech in Blacksburg, Virginia, where she met her now husband, Dr. Corey O'Connell, manager of process technology and services at Special Metals Corporation. In addition to nine years of clinical experience, Lyn O'Connell has authored and co-authored numerous publications, presentations and grants. She is a licensed Marriage and Family Therapist.
###
---
Media Relations Contact
Michele McKnight
Assistant Director of External Affairs
304-691-1713 
mcknigh4@marshall.edu
---
Receive Marshall Health News
The Marshall Health newsroom offers our latest news releases, which are distributed through a Marshall University electronic mailing list.
To be added to this list, please e-mail your name, job title, e-mail address, media outlet and location to mcknigh4@marshall.edu.
---
Sign Up for Healthy Herd Updates

Sign up for Marshall Health's official blog. This digital resource is full of stories, recipes, health and wellness information to help you on your wellness journey. 
---
News Release Archives