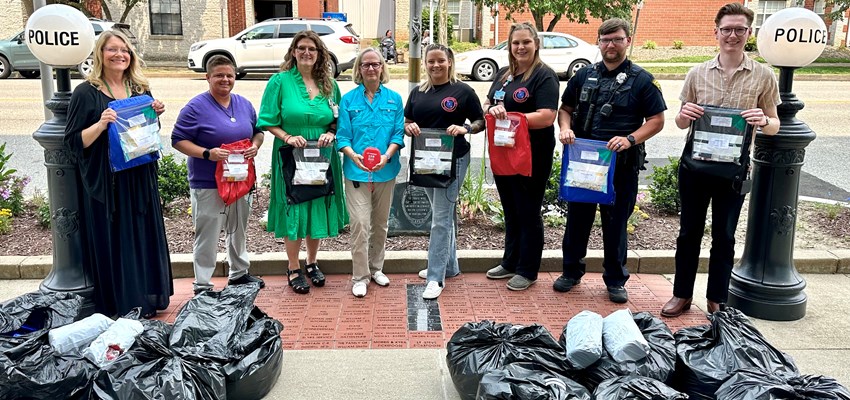 Care bags assembled for distribution to unsheltered individuals in Huntington
7/13/2023
---
HUNTINGTON, W.Va. – A collaborative team of health professionals from Marshall Health and employees with the City of Huntington have assembled hundreds of hygiene bags and care kits to distribute to individuals who are experiencing homelessness and/or suffering from substance use disorder.
The first batch of hygiene bags and care kits, which include supplies to treat wounds as well as harm-reduction supplies, were delivered recently to the Huntington Police Department's Crisis Intervention Team (CIT) for distribution through the team's outreach efforts. Approximately 800 hygiene bags and care kits have been assembled thus far.
"One of the goals of the Police Department's Crisis Intervention Team is to fill the gaps in prevention, engagement and outreach within our community's unsheltered population," Huntington Police Department Mental Health Liaison Misty Martin said. "In doing so, our team encounters many unsheltered individuals who are fearful of obtaining these essential-care supplies through traditional methods or through other social service agencies. We are extremely grateful to this collaborative group for equipping the Crisis Intervention Team so we can become the supply source to those who are most in need."
The CIT was developed in September 2022 by the Huntington Police Department working with other city officials and community health agencies. The CIT pairs mental health providers with police officers to address active mental health and co-occurring substance use disorder crises in the community that cannot be solved by other mental health programs such as crisis phone numbers.
The care-bag initiative is part of and funded by a $2 million Substance Abuse and Mental Health Services Administration (SAMHSA) grant that was awarded to the City of Huntington in August 2022. The four-year grant funded the creation of the Training Responders to Assess, Initiate & Navigate (TRAIN) project.
TRAIN, through the support of Marshall Health's division of addiction sciences, serves those who are unsheltered, who are unstably housed, who overdose, who seek treatment but fall out of care or who receive harm reduction services by closing the deadly gaps in the continuum of care. By developing a HIPAA-compliant network of information sharing with the West Virginia Health Information Network (WVHIN), case navigators help minimize gaps in the treatment network, improve outreach and increase compliance with treatment and recovery services while building on the current strengths of existing case managers and peer recovery support specialists.
In addition, TRAIN is responsible for providing support for first responders and community partners so that they are better equipped to interact with those who experience a substance use disorder and/or mental health concerns. 
For more information, contact TRAIN at trainwv@marshall.edu.
###
---
Media Relations Contact
Michele McKnight
Assistant Director of External Affairs
304-691-1713 
mcknigh4@marshall.edu
---
Receive Marshall Health News
The Marshall Health newsroom offers our latest news releases, which are distributed through a Marshall University electronic mailing list.
To be added to this list, please e-mail your name, job title, e-mail address, media outlet and location to mcknigh4@marshall.edu.
---
Sign Up for Healthy Herd Updates

Sign up for Marshall Health's official blog. This digital resource is full of stories, recipes, health and wellness information to help you on your wellness journey. 
---
News Release Archives