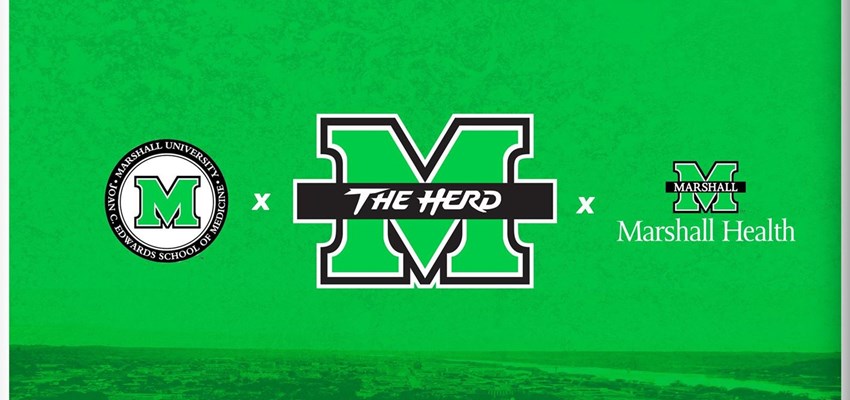 Athletic Training Program augments partnership with Marshall Health, School of Medicine
7/21/2022
---
HUNTINGTON, W.Va. – Marshall Athletics announced Wednesday a reorganization of its partnership with the Marshall University Joan C. Edwards School of Medicine and Marshall Health to include athletic training for all student-athletes at Marshall University.
The partnership creates an independent medical model of care for Marshall student-athletes, which creates an environment in which primary athletics health care providers — defined as the team physician and athletic trainer(s) — make medical decisions for student-athletes free of pressure or influence from non-medical factors. The Thundering Herd's certified athletic training staff will now be housed within the School of Medicine, in partnership with Marshall Health, under the direction of Head Team Physician John J. Jasko, M.D., an associate professor of orthopaedic surgery.
"We are incredibly fortunate here at Marshall to have a premier sports medicine group," said Christian Spears, Marshall's Director of Athletics. "Marshall health and the Sports Medicine Institute are at the forefront of providing health care to athletes and patients.
"Getting the chance to holistically align with them while providing best in class services to our student-athletes was something we sincerely wanted to do. We are tremendously grateful and you can be sure that these kinds of partnerships will help us win and, more importantly, ensure the best possible care for our student-athletes."
Under the independent medical model of care, medical providers are more capable of practicing "patient-centered care," which refers to care that is solely focused on the needs of the patient, which is the gold standard of medical care. In a collegiate athletics environment, the partnership between the three entities creates an environment for "athletic-centered medicine," which maximizes the opportunity for quality medical care, student-athlete health and well-being.
"When the Marshall Sports Medicine Institute was established in 2015, we envisioned it serving as a catalyst for exciting new collaborations like this one," said Beth L. Hammers, MBA, CEO of Marshall Health. "We have a dynamic sports medicine team that is passionate about the safety and wellbeing of our student-athletes. Incorporating collegiate athletic trainers into that team makes sense and seeks only to benefit Marshall student-athletes that much more."  
The guiding principles of independent medical care for student-athletes includes:
The physical and psychosocial welfare of the individual student-athlete should always be the highest priority of the athletic trainer and the team physician.
Any program that delivers athletic training services to student-athletes should always have a designated medical director.
Sports medicine physicians and athletic trainers should always practice in a manner that integrates the best current research evidence within the preferences and values of each student-athlete.
The clinical responsibilities of an athletic trainer should always be performed in a manner that is consistent with the written or verbal instructions of a physician or standing orders and clinical management protocols that have been approved by a program's designated medical director.
Decisions that affect the current or future health status of a student-athlete who has an injury or illness should only be made by a properly credentialed health professional (e.g., a physician or an athletic trainer who has a physician's authorization to make the decision).
In every case that a physician has granted an athletic trainer the discretion to make decisions relating to an individual student-athlete's injury management or sports participation status, all aspects of the care process and changes in the student-athlete's disposition should be thoroughly documented.
An athletic trainer's role delineation and employment status should be determined through a formal administrative role for a physician who provides medical direction.
An athletic trainer's professional qualifications and performance evaluations must not be primarily judged by administrative personnel who lack health care expertise, particularly in the context of hiring, promotion and termination decisions.
Member institutions should adopt an administrative structure for delivery of integrated sports medicine and athletic training services to minimize the potential for any conflicts of interest that could adversely affect the health and well-being of student-athletes.
"With this move, Marshall Athletics is taking proactive steps to ensure delivery of an integrated sports medicine system that prioritizes the health and wellbeing of our student-athletes," Jasko said. "As an added benefit, the community has access to the latest techniques used by athletic trainers with our college athletes as well as the shared sports medicine services through the Marshall Sports Medicine Institute and a number of outreach programs."
In addition to the 10 collegiate athletic trainers that will be part of the realignment, the Marshall Sports Medicine Institute also provides more than a dozen athletic trainers to 10 high schools throughout the Tri-State as well as athletic training coverage for all state championship sporting events in southern West Virginia in partnership with the West Virginia Secondary School Activities Commission.
---
Media Relations Contact
Michele McKnight
Assistant Director of External Affairs
304-691-1713 
mcknigh4@marshall.edu
---
Receive Marshall Health News
The Marshall Health newsroom offers our latest news releases, which are distributed through a Marshall University electronic mailing list.
To be added to this list, please e-mail your name, job title, e-mail address, media outlet and location to mcknigh4@marshall.edu.
---
Sign Up for Healthy Herd Updates

Sign up for Marshall Health's official blog. This digital resource is full of stories, recipes, health and wellness information to help you on your wellness journey. 
---
News Release Archives