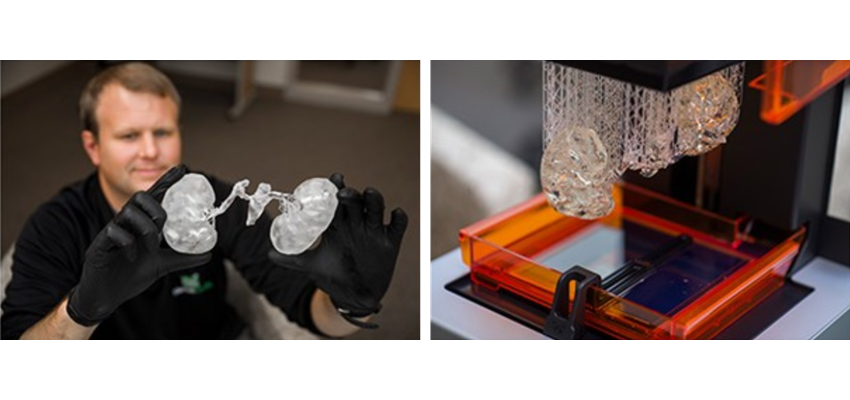 3D printing takes training to next level at Marshall School of Medicine
10/23/2017
---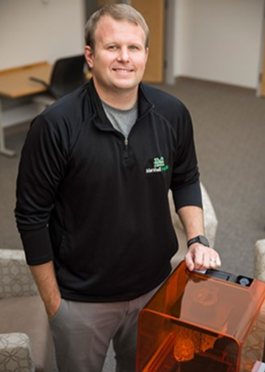 HUNTINGTON, W.Va. – A recent $10,000 grant from The Huntington Clinical Foundation is taking hands-on training to the next level at the Marshall University Joan C. Edwards School of Medicine.
The grant allowed for the purchase of a 3D printer and printing materials that are now used for student training, preoperative planning and patient education. Using photosensitive resin and polylactic plastic, the school's senior graphic designer Matthew W. Crutchfield is able to create a variety of training devices for medical students to practice techniques like suturing and draining abscesses. Clinical faculty in the department of obstetrics & gynecology are guiding students through hysterectomy simulations using 3D-printed anatomy inside a mannequin. 
"These additional hours of hands-on training mean that students are better prepared for the cases they will face once they step into the clinic," said Bobby L. Miller, M.D., vice dean of medical student education. "This ever-evolving 3D technology has the ability to permeate all facets of medical education and patient care."
Beyond its use in the classroom, Marshall physicians have been quick to integrate this advanced digital imaging technology into their practices as they prepare for complicated surgical cases and as a demonstration tool for patient education. Taking a magnetic resonance imaging (MRI) or a computed tomography (CT) scan, Crutchfield generates a 3D model of the patient's data.
"The physician can essentially hold the patient's specific anatomy in his or her hand and see more in the model than he or she can from just the scan," Crutchfield said.  
This type of advanced digital imaging technology is not new to all Marshall physicians. Since 2013, orthopaedic surgeons at Marshall Health, the faculty practice plan of the Joan C. Edwards School of Medicine, have used an external vendor to create custom 3D implants for knee replacement patients.
However, the school's purchase of a 3D printer through the grant takes clinical use of the technology to another level. Now, physicians in Marshall's departments of orthopaedics and obstetrics & gynecology are integrating this process into their preoperative planning for more complex cases. They are also using the 3D model to show patients what will occur during the surgery.
"The Huntington Clinical Foundation has been a staunch supporter of the School of Medicine for so many years through scholarship support, other educational initiatives and now providing funding for the 3D printer," said Linda S. Holmes, director of development and alumni affairs at the school of medicine. "This latest support truly gives us a leg up on current medical education techniques. We are so appreciative."

###
Photo Caption Top Left: Matthew Crutchfield shows a cured 3D print of a set of kidneys.
Photo Caption Top Right: The Form 2 3D printer is shown printing a set of kidneys.
Photo Caption Right: Matt Crutchfield pictured with the Form 2 3D printer by Formlabs.
---
Media Relations Contact
Michele McKnight
Assistant Director of External Affairs
304-691-1713 
mcknigh4@marshall.edu
---
Receive Marshall Health News
The Marshall Health newsroom offers our latest news releases, which are distributed through a Marshall University electronic mailing list.
To be added to this list, please e-mail your name, job title, e-mail address, media outlet and location to mcknigh4@marshall.edu.
---
Sign Up for Healthy Herd Updates

Sign up for Marshall Health's official blog. This digital resource is full of stories, recipes, health and wellness information to help you on your wellness journey. 
---
News Release Archives