Save on Lab Testing
Tuesdays, 8 a.m. - noon, in January, April, August and September, Marshall Health - Teays Valley offers discounted rates on direct access lab testing. These rates are available to all patients regardless of insurance status. Payment is due at time of service.
For more information, call 304-691-6755. 
Due to health and safety concerns related to COVID-19, Direct Access Lab Testing will not be available at Marshall Health-Teays Valley until August 2020.
| | |
| --- | --- |
| Test Name | Price |
| Basic metabolic panel (BMP) | $10 |
| Complete blood count | $10 |
| Iron | $10 |
| Comprehensive metabolic panel (CMP) | $15 |
| Folate | $15 |
| Hemoglobin A1C | $15 |
| Lipid panel | $15 |
| Prostate specific antigen screen (PSA) | $15 |
| Thyroid stimulating hormone (TSH) | $15 |
| Vitamin D | $25 |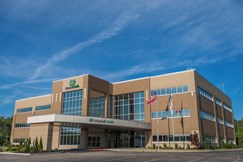 Marshall Health - Teays Valley
300 Corporate Center Drive
Scott Depot, WV 25560
304-691-6800