Painful bunions? There's a new, patented treatment option.
A common misconception about a bunion is that it is an overgrowth of bone that can simply be "shaved off". In reality, bunions are complex deformities caused by an unstable joint that can be painful with each step. 
For 87% of people with bunions, traditional surgery has failed to get to the true source of the problem – a 3-dimensional deformity caused by an unstable joint. This is why many people who have had traditional surgery have had their bunions return. In fact, 1 in 3 patients have been left dissatisfied with their surgical outcome in the past and up to 70% of those treated have had their bunion return.
Unlike traditional methods, Lapiplasty® 3D Bunion Correction is a new treatment option that removes "the bump" and corrects the root of the problem. Advanced fixation technology is used to secure the correction in place, allowing patients to walk within days of surgery.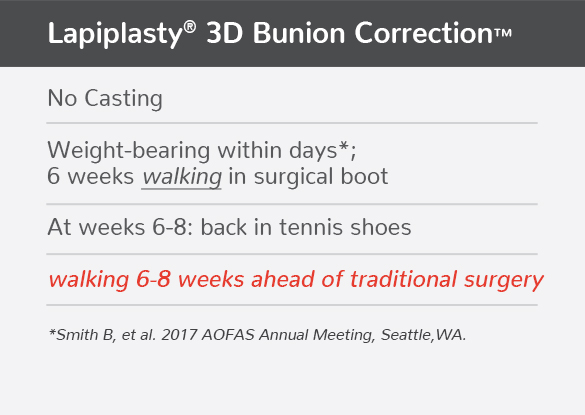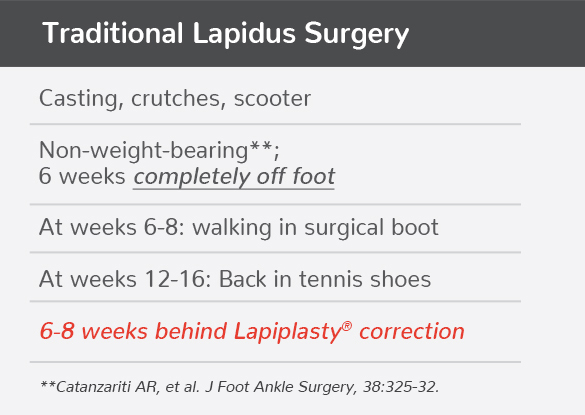 ---
How does Lapiplasty®
 

3D Bunion Correction™

w

ork?

Instead of cutting the bone in half and shifting the top part over, the patented Lapiplasty® procedure uses specially-designed instrumentation to rotate the entire deviated bone back into its normal anatomical position, naturally straightening your toe, removing the "bump" and associated pain. Innovative titanium plating technology permanently secures the unstable foundation, the root of your bunion problem. Most patients are able to walk within days of surgery. No cast is required; allowing patients to get back to the shoe wear of their choice and activities quickly.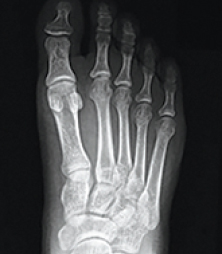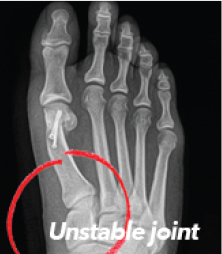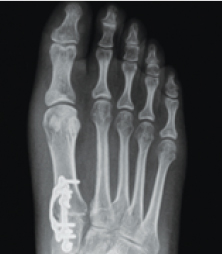 ---
Frequently Asked Questions
Clinical Interests:
Locations:
---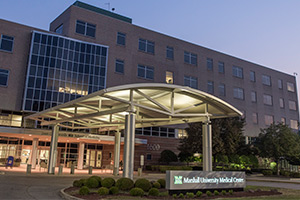 Marshall Orthopaedics
An outpatient department of Cabell Huntington Hospital
Marshall University Medical Center
1600 Medical Center Drive
Suite G500 (Ground Floor)
Huntington, WV 25701
Phone: 304-691-1262
Toll-Free Phone: 877-691-1600