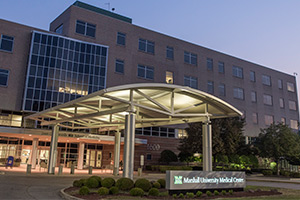 Marshall Neuroscience - Huntington
A provider-based department of Cabell Huntington Hospital
Marshall University Medical Center
1600 Medical Center Drive, Suite B500
Huntington, WV 25701
Phone: 304.691.1787
Fax: 304.691.8711
---
Hours
Monday-Friday
8 a.m. to 4:30 p.m.
---
Prescription Refill Line
A dedicated prescription refill line for our neurology and neurosurgery patients
304-691-1399
Services
Adult and pediatric neurology
Adult and pediatric neurosurgery
Brain tumors
Concussion
Dementia
Electroencephalography (EEG)
Electromyography (EMG)
Epilepsy
Functional/deep brain stimulation
Gait disorders and dystonia
Head injuries
Long-term monitoring (LTM)
Memory & cognitive disorders
Movement disorders
Multiple sclerosis
Nerve & muscle disease
Parkinson's disease
Pituitary surgery
Radiosurgery
Seizure disorders
Spine and spinal cord disorders
Stroke
Trigeminal neuralgia
Amenities
Lab/x-ray
Pharmacy
Wheelchairs
Parking
Parking garage
Parking lot
Covered canopy for patient drop-off/pick-up
Shuttle service. Call boxes are available for complimentary shuttle pick-up. To request courtesy shuttle pickup, call 304-544-RIDE.